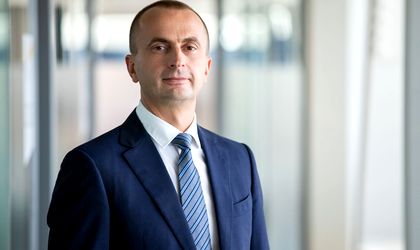 10 people to watch in 2021
2020 marked a significant milestone for the global business environment and humanity at large. It was one of the most challenging periods in recent history and it forced managers to adapt quickly in order to keep their businesses afloat. Many of them had a double and crucial mission: keeping their companies steady and taking care of their teams while trying to strike the right balance. Business Review sat down with leaders of some of the most dynamic industries in Romania and found out how they've managed to succeed in getting through the pandemic and what their plans are for this year. Read on to learn all about the leaders you should watch in 2021!
For Bogdan Ion, Country Managing Partner, EY Romania and Moldova and Chief Operating Officer for EY South-East and Central Europe and Central Asia, the main goal of this year will be creating value around three pillars: humans at the centre, innovation at scale, and technology at speed.
By Anda Sebesi
"2020 was an outlier year which we will certainly remember, although we may want to forget it. Like all Black Swan events, even if you know they are bound to happen at some point, they're still disruptive and challenging to cope with. But even if it brought new challenges, we had a smooth transition to the new normal," says Bogdan Ion.
As most companies were forced to allow their employees to work from home, they needed to find ways to adapt to the new conditions. Bogdan Ion says that remote working has always been part of EY's business practices, albeit not at the scale triggered by this crisis. Therefore, the company successfully moved into remote work within 24 hours and has since continued to serve its clients without disruption. "It has arguably been the busiest period of my professional life and I've had to create new routines in working from home and meeting with clients and team members. In retrospect, I can say it was a challenging experience, but our team managed it well," he adds.
The EY executive says that the pandemic was a very tangible lesson in adaptability and resilience, which we all took to heart. "Taking this a step further, our first study on Romania's attractiveness for foreign investment, conducted in July last year, showed that this indicator would be influenced not only by traditional drivers such as labour costs, infrastructure or political stability, but also by our ability to demonstrate resilience to external shocks, such as this pandemic. Bogdan Ion points out that the SARS-CoV-2 outbreak has reminded us all that we depend on each other and has made us more aware of the importance of people who are working on the front lines, in a multitude of sectors.
"The crisis has also reminded us that empathy should be a core value not just between human beings, but also in the business world. The key lesson is that creating long-term value for our clients, our people, communities, and society at large is more important than ever, in the context of widening social inequality and a significant impact of climate change," he argues.
As for future plans, the company will continue to actively support its clients in adapting and transforming while integrating key lessons from this crisis, which started out with a focus on business continuity and has evolved towards resilience and business transformation. "In fact, EY has embarked on its own multilayered transformation journey, which brings changes to our operating model and expands our range of services. This will enable us to create value around three pillars: humans at the centre, innovation at scale, and technology at speed.