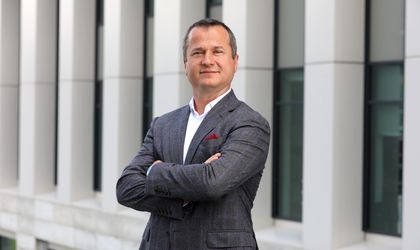 10 people to watch in 2021
2020 marked a significant milestone for the global business environment and humanity at large. It was one of the most challenging periods in recent history and it forced managers to adapt quickly in order to keep their businesses afloat. Many of them had a double and crucial mission: keeping their companies steady and taking care of their teams while trying to strike the right balance. Business Review sat down with leaders of some of the most dynamic industries in Romania and found out how they've managed to succeed in getting through the pandemic and what their plans are for this year. Read on to learn all about the leaders you should watch in 2021!
Having been the managing director of real estate development firm Vastint Romania for about twelve years now, Antoniu Panait has been able to keep the company afloat during the pandemic and make sure that all its projects could move forward, albeit at a slower pace due to the restrictive context.
By Anda Sebesi
In Antoniu Panait's view, 2020 was first and foremost a learning experience. It was also a very difficult year that no one was prepared to cope with, whether we're talking about governments or businesspeople, companies or individuals.
"Humanity may have been prepared for or anticipated a financial crisis, but instead we found ourselves in this pandemic. It was not something we could have learned about from books or an MBA programme and that we could just apply inside our organisations. We all had to learn and adapt as we went along," he says.
According to Antoniu Panait, in difficult times like these it is very important to know who you can count on, and teams must be united in order to move in the same direction. "We've managed to get through this storm due to my team, which is made up of highly experienced and optimistic professionals." He also notes that each building developed by Vastint is like a plant where no one can work remotely. "Although some of us can work from home, others need to always be on site and they need our support in such times. Therefore, a situation like this pandemic is very hard to manage because suddenly, the human dimension becomes much more important than the work itself. This makes it very difficult for a manager to keep the business afloat. My mission was to keep the company steady and take care of my team, while trying to find the right balance."
Antoniu Panait was successful in his approach. But how did he do it? Any financial crisis generates opportunities and if a company is well prepared and has financial resources at its disposal, it can make investments.
"Vastint is a solid company because we are very careful about all the investments we make. We have a prudent approach when it comes to the growth of the company because we follow a long-term strategy. We buy lands, develop projects, and then rent, keeping them in our portfolio for a long period of time. We are very conservative and pay a lot of attention to how and when we invest. This has also helped us overcome the crisis."
Although there is no standard recipe for dealing with unprecedented situations, Antoniu Panait says that continuous planning can help any company get through a difficult period. "We have to stay on solid ground regardless of the times. Each test makes us better if we learn from it. Companies must find ways to consolidate or diversify their business so that they can be sustainable in the long run."
He highlights the fact that companies used to focus on offering integrated services, a business model that has no longer been valid since the 2008-2009 financial crisis. "An integrated approach was considered more profitable and more effective. But the last financial crisis proved that this model was inefficient and that companies should focus on their core business. Otherwise, their development would slow down and they would recede from their core business." He adds that companies today should reflect on their weaknesses during the pandemic and think of how they can consolidate, plan ahead, and increase their efficiency so that they might be better equipped to deal with such a risk.
2020 achievements
Antoniu Panait says that Vastint's biggest achievement last year was that its entire team managed to get through this tough period, mainly thanks to its flexibility and to everyone understanding that there was no recipe to follow in such times. From a business perspective, he says that Vastint has been affected by the pandemic, as all of its projects were slowed down due to workforce limitations.
"However, we've done good work throughout this period, including designing and developing concepts for our future projects, as well as analysing the current situation and thinking about what the future will bring," Antoniu Panait says.
For example, in June last year, Vastint Romania's Timpuri Noi Square obtained the Safe Guard certification, following an audit carried out by Bureau Veritas, which looked at the health and safety measures implemented during this period, supporting tenants in the process of returning to the office in a safe environment, in line with current recommendations. The certification covers common areas, reception areas, and lobby lifts and will establish health standards applicable to all three buildings delivered so far at Timpuri Noi Square – more precisely, a commercial area of 53,000 square metres.
"Timpuri Noi Square offers a healthy and welcoming indoor work environment and has all the necessary characteristics to ensure a safe return to the office. Technical details such as healthy air conditioning and a superior ventilation system – providing 100 percent fresh air – combined with Vastint's standard 3-metre floor heights, energy-saving electrical equipment, and LED lighting all contribute to a secure environment where social distancing can be ensured," Antoniu Panait explains.
Furthermore, in January 2020, Vastint Romania received a LEED Platinum certification for the third building of Timpuri Noi Square, with a score of 92 points, which turned the company into the developer and owner of one of the highest ranked buildings in Romania, including all Business Garden Bucharest's buildings, and the other two that are part of Timpuri Noi Square. Last but not least, Vastint also leased about 10,000 sqm last year. "It is not a big number for the market as a whole, but it is significant for us, as our portfolio totals 100,000 sqm and we managed to lease 10 percent of it in the middle of the pandemic."
An eye on the horizon
"The real estate sector will continue to operate, whether it's in the residential, offices or hotel segment. But we need to be careful about new market developments." Antoniu Panait argues that office buildings will not disappear because of work from home practices. "The future is about returning to the office. It is clear that some employees will continue to work remotely, and that those who return to their offices will need a larger space that can ensure social distancing. At Vastint, we have invested much more in our offices and so it is now easier for us to convince our tenants about the benefits of returning to the office." As for rent prices, Antoniu Panait believes that a decline is out of the question for the coming period, despite the current situation, because of the ever-growing costs of construction and materials. In fact, rents were expected to increase before the pandemic, but we're now more likely to see them stagnating for a while. But the Romanian real estate market may not recover this year, as decisions in the office segment remain with the tenants. "In our role as developers, we create for our tenants the basis, something that I call canvas, from which they can start building what is meant in terms of fit-out to meet their employees safety needs. Some companies will take immediate action, while others may need more time to do so. This is why it is likely for this recovery to start differently for each of the industries," says Antoniu Panait.