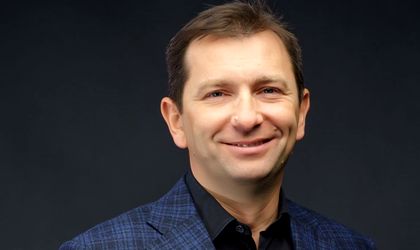 Andrei Cionca, the CEO and co-founder of Impetum Group, will direct his efforts this year towards creating a hub to support Romanian companies through business knowledge which is relevant to one of three stages: startup (ROCA -X), growth challenges or impasse (ROCA), and distress (CITR).
By Anda Sebesi
2020 was a year of both adaptation and introspection for us all, as the novelty of the pandemic forced us to take things one step at a time. "Last year I remembered how important it was to stop from time to time, take a step back, and analyse. The pandemic gave me a huge opportunity to do that, but it also gave me some extra time that I used for myself, my family, and the business. As a team we had the time to reflect on our 'why's', on our organisation's structure, and on ways in which we could improve inside-out," says Andrei Cionca, the CEO and co-founder of Impetum Group. He adds that the pandemic also tested the flexibility of his business, while the team had the chance to demonstrate that they could do anything together and see opportunity in every crisis. "We also became aware of the urgent need for transparency on the market. The business environment needs to make decisions based on real economic facts. This is CONFIDEX's strong point: diving deep into the economy's real layers by analysing the problems and challenges of the industries that significantly contribute to the GDP," he explains.
In addition, the company continued to upgrade and digitalize its processes and encouraged people to engage with the organisation even more. "We looked after people's needs by providing wellbeing programmes and we also accelerated all our internal business processes, speeding up our development." According to Cionca, 2020 was a good year not just because his company managed to deliver its budgeted figures, but also because a team of over 160 people managed to take themselves out of the comfort zone, acting in an agile and flexible way, but most importantly, acting together. "In 2020 we tested our principles and our values and they were confirmed," Cionca adds.
Looking to 2021, Impetum Group will maintain its focus on people, readapt its organisational culture, and prepare for the next phases of development. "Our forecasts show that our main indicators will remain constant or even increase in the coming period, but we will invest heavily in solutions to adapt to the new context, whether we are talking about digitalization or about new products, which will be adapted to the current market," the co-founder notes.
According to Cionca, 2020 was the perfect year for taking care of some projects that have been postponed in the past. "We've also taken steps towards our after-crisis development and prepared for what 2021 brings. Digitalization and creating a bottom-up organisational culture are our core priorities for the new year and, in my opinion, essential for the future." He adds: "Our vision, which is already happening, is to create a hub to support Romanian companies through business knowledge which is relevant to one of three stages: startup (ROCA -X), growth challenges or impasse (ROCA), distress (CITR through its range of legal administration and restructuring services)."