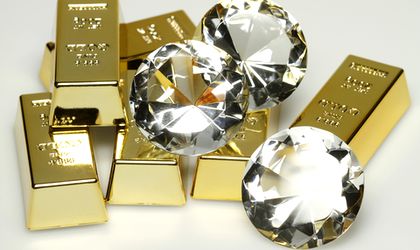 Ever since the beginning of time, gold has been connected with wealth and respect. Every imagination of richness is sprinkled with magnificent diamond gemstones and gold jewelry. Gold and diamonds, in particular, have the benefit of being fully immune to swings in currency and stock prices, which is particularly important when it comes to making defensive investments. Having a good, safe, uncorrelated financial assets is always a good idea. You can purchase gold or diamonds in one currency, relocate it to another nation, and then sell it in the new currency without much premium, if done correctly. Gold investments are dependable, lucrative, and crisis-safe in nature.
When investing in gold, there are several possible hazards to be aware off. Gold is primarily used as a defensive asset, this is why even the smallest financial crises anywhere in the globe may serve as an impetus to make gold investments. Just compare the gold price to the S&P 500 and see it yourself.
What are the ways of investing in gold?
After understanding why you would want to buy gold for your portfolio and next, you need to know the possible ways of buying gold or gold related investments.
You can purchase gold bars through many banks and jewelry shops. Some banks also provide the option to rent a bank cell for storage for a small fee.
There are many places that sell various gold coins. It's a good feel of the ancient monetary system where they used gold, silver, and copper coins the same way as we use fiat money right now.
You may find gold ira company in the same way you open a brokerage account. As it is very convenient, and readily available with a very good liquidity.
By establishing a brokerage account, investors may purchase gold directly on the stock exchange.
You can invest in gold mining stocks and get monthly dividends as well as bet on an individual company's performance.
Investing your money in diamonds
This type of investing is reserved only for the exceedingly affluent individuals. In some countries, it is illegal to engage in direct private diamond dealing while it is perfectly normal in others. That is why the most popular way of investing in diamonds is through jewelry. However, you should keep the following points in mind when purchasing an expensive set of earrings or rings, or a costly pendant engraved with diamonds, as here the whole piece serves as an investment. The value of the item will be increased by the amount of VAT tax charged and the seller's margin. Sometimes it can take more than thirty percent of the total sum forcing to immediately accrue negative return on your investment. The majority of jewelry pieces are not composed entirely of pure metal. Instead, they are constructed from alloys with low and average metal content, giving you a hard time of assessing the underlying price of metals and gemstones of the piece. When purchasing gold or diamond jewelry, only do so with reputable vendors and insist on quality certificates. This way, you will be secured against any chance of fraud.