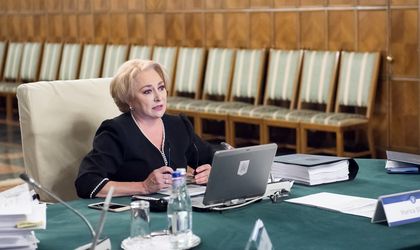 Romanian PM Viorica Dancila presented, today, an evaluation of the government policies adopted in the last six months. According to the government, 
The state budget revenues were 12 percent higher in first half year, compared the same period of 2017, at RON 132 billion, with an increase of over RON 15 billion. The increase was supported by the social contributions, which were transferred entirely to employees.
The pension deficit has decreased by RON 3.1 billion, down to RON 3.2 billion, (first half year 21018 compared to first half year 2017) while EU funds absorption increased in the first six months to RON 6.8 billion from RON 5.6 billion.
According to Dancila, public investments increased to RON 9.1 billion  in S1 2018, from RON 6 billion in S1 2017, a 51.6 percent increase. What Dancila didn't mention is that most of the public investment were in the Defence sector this year and not on road infrastructure or other public projects. Foreign Direct Investments (FDI) also went up this year, from EUR 1.93 billion to EUR 2.21 billion.
In order to decrease the unemployment rate, the government granted employers RON 2,250 for every unemployed individual hired and kept for at least one year. Also, a bonus of RON 1,000 is offered to every new employee that will work for at least 3 months. "Fighting bureaucracy meant that the number of papers that need to be completed for fiscal statements were reduced from 7 to 1", Dancila added.
Viorica Dancila also stated the increases of wages in the health sector and in education and also the payments for agricultural subsidies. "There is still much to be done and we will do as we promised in the election campaign. This, today, was a concise presentation on economic achievements, but the ministers will present each and every one of them," said Dancila.
Contrary to what the prime-minister said Ionut Dumitru, the president of the Fiscal Council, said for Digi 24 that the economy has slowed significantly the pace of growth in the first half of the year and, while the GDP is still growing, there are many imbalances.
"We have the a very high current account deficit and the inflation is on the rise and these are creating important imbalances in the economy," said Dumitru.
This issues needs to be addressed in order to eliminate the imbalances and to ensure the growth for the coming years.