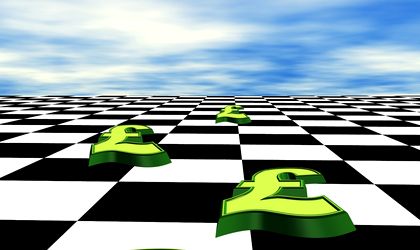 UK companies have invested EUR 4.5 billion in Romania over the years with British entities being among the most long-standing foreign direct investors in the country. Telecommunications, banking, insurance and manufacturing are the fields where UK firms have a strong presence in Romania. As the local economy tries to find ways to reinvent its image beyond that of cheap labor costs and a large internal market, new industries should gain momentum.
Simona Bazavan
Tourism, health and education, and financial services are just a few of the areas where the UK has an abundance of expertise from which Romania could benefit. A lot will depend in the medium and long run, however, on Romania's much debated – but not yet adequately addressed – incapacity to attract European funds.
The hard economic times have made some businesspeople think twice and reconsider their future strategies, but local British companies are keeping a stiff upper lip and focusing on the full half of the glass.
Vodafone pledges future to Romania
One of the biggest names among British investors in Romania is Vodafone. Since 1997, the company has invested EUR 2 billion in Romania, company officials told Business Review.
One of Vodafone's most important investments last year was the development of the national 3G internet network in 900 MHz bandwidth. This required an investment of tens of millions of euros and led to the coverage of 90 percent of the Romanian population, according to the same source.
Over the coming five years Vodafone Romania has an investment budget of EUR 500 million, to go for the most part into the company's network capabilities, according to Inaki Berroeta, the new CEO of the company, who was appointed to the position in December last year.
The operator's call centers, customer relations department and its network of stores will also benefit from the overall investments. One of the priorities will be to have as many affordable smartphones as possible. Also, the range of tablets in Vodafone shops will expand. "I want to improve the offer of tablets, so in the next period you can expect a lot of devices coming up. By summer, there will be a pretty good portfolio of tablets out on the market," said Berroeta earlier this year.
Romania is still behind other countries as far as mobile data usage is concerned, which is why there is still potential on this market compared to other countries. "We now have the fastest network in the country by far. The real data download speed is twice as fast as that of our closest competitor, according to measurements made by P3," added the CEO.
The operator's general headcount will remain pretty much the same even though there will be some shifts in personnel across various sectors. "We are a very healthy business and among the top five companies in Romania in terms of profit," said Berroeta.
At the end of last year, Vodafone Romania had more than 9.8 million users, down 35,000 from the previous quarter of 2010, but up 141,000 compared to the same quarter of 2009.
"In terms of value for money in telecom, Romanians are very privileged. This market is extremely price sensitive: this is better for the customer but more challenging for us. What matters is what kind of value you are able to bring for your customers: this includes price per minute and quality of communication. We need to ensure that as a package, we offer more than our competitors," said Berroeta. He added that the market is very much driven by the number of SIMs. "Penetration in Romania is 130 percent at the moment, but there are countries where it is 180 percent," he said.
Royal wedding boosts banking presence
Britain's Royal Bank of Scotland has been active in Romania since 2007 when it successfully led the consortium bid for ABN AMRO, and in October 2008 the bank was rebranded locally as RBS.
In 2010 the lender says it focused mainly on strengthening its relations with customers and also on the quality of its assets. This year, RBS Romania will continue to concentrate on premium clients, its traditional target audience. Therefore, all the products and new features attached to existing products and services the bank is going to launch will be customized for this type of customer, RBS has announced.
Regarding the results it posted in 2010, Johan Gabriels, CEO of RBS Romania, said the bank was quite happy with the financial indicators for last year. "The preliminary results we communicated to the Central Bank show a profit of a little over RON 150 million, which brings our ROA to 2.4 percent and our ROE to 19.7 percent," said Gabriels.
At the end of last year RBS officially inaugurated its new HQ in the Lakeview office building. The bank occupies the ground, first, second and third floors, with an 8,700-sqm surface area. Lakeview is located in the Barbu Vacarescu area of Bucharest, and was designed as a green building, with reduced energy consumption.
RBS is present in 15 Romanian cities and operates a network of 28 local branches.
Elsewhere, consumer credit company Provident Financial Romania reported a maiden profit of GBP 1.7 million for last year after entering the local market in 2006.
Presently the lender covers 75 percent of the country's urban population and serves over 215,000 customers. Provident Financial Romania granted loans worth EUR 87.8 million in 2010, up from EUR 71.8 million in 2009. The revenues it registered amounted to nearly EUR 60 million, from EUR 40 million in 2009. The company now has over 600 employees and works with more than 3,000 independent commercial agents, Russell Johnsen, general director of Provident Financial, told BR.
"Subject to favorable economic conditions, in the second half of the year we plan to open new offices across the country and thus resume our expansion to gain national coverage in the coming years," Johnsen added. So far, Provident Financial Romania has invested over EUR 90 million locally, the company says.
Elsewhere, after ten years of activity in Romania, Aviva has announced that it has so far invested RON 243 million (approximately EUR 60 million) in the local market, with a RON 30 million increase in social capital for 2010. According to Mihai Popescu, CEO of Aviva Romania, the company was managing assets worth RON 600 million at the end of 2010, a 21.4 percent increase compared to the previous year. It presently runs a network of over 500 financial counselors nationwide.
One of the top five players on the local life insurance market, Aviva Romania reported subscribed gross premiums worth almost EUR 21 million last year, a 12 percent decrease against 2009. The general economic situation is most likely to take its toll on the local life insurance market this year too. "We don't expect any major increases in subscribed gross premiums as they will continue to be affected by the difficult economic context," said Popescu.
Popescu told BR that last year the company concentrated on reorganizing its local business with a clear focus on improving services and making long-term investments in infrastructure, technology and its direct sales force.
British investors get to the church on time
Last week brought the announcement that Cathedral Plaza office building – developed by British Willbrook Management International – could be sold to a British investment fund for EUR 70 million.
"We have received an attractive offer this time from a British investment fund. We have signed a pre-agreement to sell the building but the contract will be closed only if we meet certain performance criteria," said Daiana Voicu, managing partner at Willbrook Management International, quoted by Mediafax newswire. She added that the criteria include time targets to lease the building and its general profitability level. The buyer is one of Willbrook's clients, a company that has other investments in Romania. Cathedral Plaza is located near Saint Joseph's Cathedral in Bucharest and since 2006 it has been the subject of litigation between Willbrook and the Romanian-Catholic archbishopric in Bucharest, the latter claiming the office building is illegal as it endangers the structure of the catholic cathedral.
The dispute has cost Millennium Building Development, the current owner of Cathedral Plaza, about EUR 22 million so far, which it plans to recover in court, the company has announced. According to the same source it has also made it difficult to find tenants or potential buyers. The office building required an investment of about EUR 45 million and could be sold for EUR 70 million by the end of this year.
Raising a toast to expansion
In the food and beverage industry, a British company with a long-standing presence in Romania is Halewood International Ltd, which began importing Romanian wines to the UK as early as 1987. Ten years later the company set up its first local subsidiary and it now operates four. Halewood's total investments so far amount to about EUR 10 million.
In 2010 the local wine market fell between 5 and 30 percent on various segments, Adriana Grecu, marketing director at Cramele Halewood, told Business Review. 2011 will most likely follow the same pattern with the first signs of recovery being expected no sooner than the end of the year. For 2010, Halewood Romania Grup reported turnover of EUR 9.87 million and this year the company estimates a 3-5 percent increase.
At the end of 2010 Halewood Romania Grup extended its local business by creating a new company dedicated to wine imports. In 2011 the company will focus on opening more of its own winery outlets – it now operates eight units – and on launching new premium and super-premium wines.