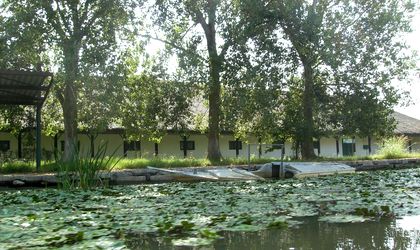 Despite more than EUR 25 million of investments in the Sfantu Gheorghe and Sulina miniports and beach improvements and another EUR 2 million spent on events promoting the Danube Delta – part of the "Explore the Carpathian Garden" brand – Sfantu Gheorghe does not have 24/7 healthcare services. With new national boat registrations constantly falling, the Romanian authorities are hoping that millions of euro worth of leaflets, workshops, conferences, congresses, seminars and photo exhibitions will bring tourist boats and cruise ships flooding to the rustic fishing villages of the Danube.   
∫ Dana Verdes
"We live by fishing in the Danube Delta and offering rustic accommodation to tourists who come here during July and August, when Sfantu Gheorghe plays host to several festivals, including the international film festival Anonimul." Sandi Ciumacenco describes his simple life in the village where the Danube Delta arm meets the Black Sea. It is the way of life also for all 1,000 inhabitants of fishing village Sfantu Gheorghe.
In the past few years the number of young people attracted by the Sfantu Gheorghe lighthouse, the sandy streets, the virgin beach, the Danube Delta and its festivals is increasing. Most of those who pitch up during the summer either camp or stay with locals, as the cost of transport and accommodation for four days is more than EUR 150.
Nobody who has visited the Danube Delta can deny that this part of Europe has a special charm. About a year and a half ago the Delta was included in the tourism destinations promoted under the national brand. At the time Elena Udrea, the tourism minister, said on a visit to the area: "The Delta is not ready even for Romanian tourists, let alone for Germans," and gave the go-ahead to a EUR 25 million project which included two EUR 10 million tourist miniports in Sfantu Gheorghe and Sulina and the improvement of the Sulina beach, a EUR 5 million project. Udrea's target: "We need to finance these projects. We have to bring boats with tourists, which will come from the seaside."
Valentin Sidorencu, Sfantu Gheorghe mayor, told Business Review that Udrea's aspirations are about to become reality this year. "The investment in the new miniport at Sfantu Gheorghe, financed by the Tourism and Development Ministry and contracted by the Tulcea County Council, is expected to be realized this summer. It is a doable deadline.  This miniport will serve pleasure boats of up to 10 meters in length," said Sidorencu.
Udrea's vision expanded and the initial project was extended in order to support cruise ships anchoring at the Danube as well. Sidorencu told BR that this part of the project is ongoing and is expected to be finished this year.
Another important project which Sidorencu says is completed is the waste management station.
"We are talking about a waste sorting station, a garbage truck and hundreds of bins. Additionally, there are ongoing works for the road infrastructure necessary from the waste station to the berth. This investment is financed with RON 600,000 from the local council's budget and another RON 1 million for the county council," said the mayor.
As these major investments reach completion it is just a few months until tourists are expected to flock to the Danube, although the number of new pleasure boats registered has been decreasing in recent years. While last year the average number of new vessels registered was 39 units per month, this year just one boat has joined the list, in January.
One major issue which seems to have been overlooked by the central authorities is the lack of medical services. "We have a family physician who comes once a week. We recently convinced a nurse to move to Sfantu Gheorghe permanently by promising her a full-time job. We failed to hire her as government ordinance 34/2009 has practically blocked access to all jobs in the public system. This is why we have formed an NGO and hired this nurse through the organization. Through this NGO we ensure her salary and drugs with funds from the city hall's budget, until we can receive subsidies or even donations," Sidorencu tells BR. "We have reported our situation to all the relevant authorities but we only received pretty answers – and what can we do with them?"
Ironically, the ministry has recently announced that it is starting a tender for services in the area of events planning for the promotion and development of tourist destinations. It is prepared to invest EUR 2 million, excluding VAT.
Companies participating in the tender must suggest ways to develop different types of events such as roundtables, workshops, galas, Romanian evenings and mobile events – shows, conferences, congresses, seminars, scholarships, travel forums and photo exhibitions. The duration of the procurement is one year from the date the contract is signed by both parties.
Ministry officials told Business Review that the promotion of the Danube Delta is included in a larger master plan. "In terms of concrete actions underway, presentation materials for different regions of Romania, including the Danube Delta, are being created. We have also launched three procurement procedures for services to run advertisement on national TV and radio channels this year to promote the 'Explore the Carpathians Garden' program. Another procedure is for services to broadcast advertisements on international TV channels this year, in order to promote Romania as a tourism destination and increase brand awareness," said ministry representatives.
According to them, the annual tourism marketing and promotion budget has received RON 12.91 million this year from the state budget, without currently being broken down per project, while the regional operational program, Axis 5 'Creating a positive image of Romania as a tourist destination by identifying and promoting a national tourism brand' has a total budget of EUR 75 million for 2007-2013, coming from European funds.
But while at the ministry everything is clear, Sfantu Gheorghe city hall officials have had to close down the library. The mayor told us that they will try to run cultural activities through an NGO, activities which will attract the thousands of tourist boats and cruise ships that will dock this summer in the brand new, expensive miniports in Sfantu Gheorghe and Sulina.
dana.verdes@business-review.ro
Registration of new Romanian vessels
Constanta harbor master's office
2009:  116
2010: 86
January 31, 2011: 1
Tulcea harbor master's office
2009:  180
2010: 90
January 31, 2011: 4
Galati harbor master's office
2009:  257
2010: 135
January 31, 2011: 4
Source: Romanian Naval Authority