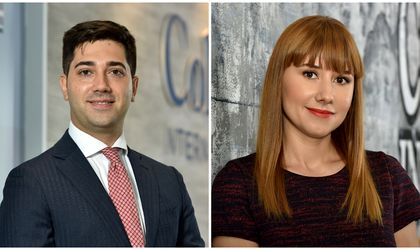 The first half of the "pandemic year" closed with a total value of investment transactions worth 408 million euro in Romania, around 18% above the first semester of 2019, with office assets accounting nearly 86% of volumes, according to Colliers International's market report for the first semester of 2020. Still, the outlook is uncertain since several large big-ticket items have either been frozen or fell through. On the opposite pole, the local land market continues to see deals closing and significant interest.
Similar to the CEE region, Romanian investment volume was up in the first half of the year, to 408 million euro, around 18% above the first semester of 2019. Over one quarter of the volumes recorded in Romania was generated by the GTC portfolio sale to the Hungarian Optimum Private Equity Fund, which includes several office projects in Bucharest (deal estimated around 116 million euro for Romania). Two similar-sized deals (in excess of 50 million euro) came from the closing of the third phase of The Bridge office project (purchased by the owners of the Romanian DIY chain Dedeman) and Global City Business Park offices (purchased by Greek-owned Arion Green). In fact, nearly 86% of volumes were generated by office projects, mostly located in Bucharest.
However, 2020 was expected to be the best year in the post-crisis cycle for the real estate investment market in Romania, Colliers International consultants say, but the coronavirus pandemic context slowed its performance in the first half of the year. At the same time, several large transactions, in excess of 100 million euro, including one that would have set a record for the local market in terms of size, have been postponed in the current context or have even been cancelled.
"The predictability of revenue streams remains the biggest issue over the short term for offices and hotels in particular. Nevertheless, there is now more capital than ever due to liquidity injections from central banks and fiscal programs from governments. Consequently, there is a strong case that investment activity will snap back once occupancy returns around normal levels", explains Mihai Pătrulescu, Senior Associate Investment Services at Colliers International.
There is potential to see some opportunistic or value-add transactions
In spite of a lack of benchmark trades in Romania, the CEE trend of higher yields as well as deteriorating sovereign risk for the country would have offered arguments to see a rise for both office and retail assets in Romania, but we increased only the latter. We base our decision on market talk to keep office yields unchanged (i.e. levels yet to be tested by the market in the new context) as well as the fact that before the coronavirus issue, quite a few large deals were in fairly advanced stages at below 7% yields. And seeing as Romania has underperformed versus other CEE countries this cycle, there are just enough reasons for us to be more confident in keeping office yields flat versus a small bump.
Overall, 2020 may look like a sluggish year, with volumes in the 600-700 million euro range, though a lot will depend on if and how the deals which were frozen or fell through during the lockdown period may be recovered. There is also potential to see some opportunistic or value-add transactions, though we would argue that it may take some time for the seller or his companies to hit trouble, requiring a fire sale approach to raise some cash quickly.
At the Central and Eastern Europe (CEE) level, almost all markets have seen an increase in yields compared to end-2019 for office and retail assets. Investment volumes in the CEE region printed at nearly 6.3b billion euro in the first semester of the year from just under 6 billion euro, which translates into a roughly 5% increase.
New plots are put up for sale with rather normal prices, as if the pandemic did not exist
In the land market, the activity is almost normal and some deals even went ahead during the lockdown period. Demand from retail players has arguably been the best in the first semester of the year. Though demand for plots geared at big shopping centers/malls has indeed stagnated, retail park developers and big box owners all continued to look towards new projects in various parts of the country that have a subpar offering of modern retail spaces. We even have a new entry on this space that surfaced during the lockdown period.
Nevertheless, a few big deals, in excess of 10 million euro, that seemed likely to close in 2020 may not happen this year, rather next year. Residential developers are still holding on to a fairly robust demand for land, though not on par with 2018-2019 levels, which have seen record highs (hence, a lot of them have strong land banks); still, most remain on the lookout for any opportunities, including consolidating land around current projects.
"A rising category on the residential side after the COVID-19 lockdown is that of houses: hence, several developers are also looking at land plots on the outskirts of major cities, where prices are also lower. Offices are a different story: given the healthy pipeline, particularly in Bucharest, and uncertainties on the leasing side for instance, related to work from home and other aspects, many buyers are in wait-and-see mode. Still, even here, those following a strategy of developing and selling must continue to look for new projects. Hotels, which were one of the hot areas before the coronavirus, continue to see good interest, perhaps also on account of the possible timing: buy now at a good price, develop and open the new project in around two years, when the market could be in decent shape", says Sînziana Oprea, Director Land Agency at Colliers International.
Supply remains adequate, from various categories of sellers which have been present in the market in the last years. New plots are put up for sale even now and not necessarily at any discounted prices, but rather normal prices, regardless of the pandemic context, on account of continuing demand. Furthermore, there have not been any distressed assets to begin with, though the economic woes are still only a few months old and time may bring out some financial weaknesses for some individuals or companies, forcing them to scale back prices for a quick sale. On the price front, Colliers International consultants expect things to remain rather flat (with potential downward adjustments only on a case-by-case basis), unless things take a sharp turn for the worse.