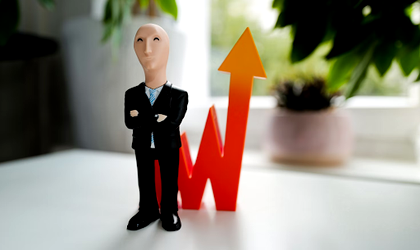 Without much glitz or fanfare robo-advisory services have quietly amassed over $460 billion in assets under management, and remain on track to reach $1.2 trillion in AUMs by 2025. 
Despite their growing traction, however, their mainstream profile remains a snoozefest, always the next big thing, but never quite stacking up. While many quant and prop trading desks go all-in on high-frequency and black box models, robo-advisors still remain stuck with mere allocations to ETFs and other investment vehicles, which are usually managed by human investment professionals.
So what went wrong with this promising segment, and what does the future hold?
Humans Will Not Be Replaced
Even though early pioneers of automated investment management promised a system that remains free from human bias and emotions, in reality humans would likely never be replaced. 
This has less to do with the workings of the system, and more to do with investors craving human validation and accountability. This proved to be the biggest stumbling block for this segment, and became quite evident even in the early days.
Most investors still have a hard time handing over their money to a program, and prefer face-time with a qualified professional, who takes responsibility for their funds, and provides the much needed peace of mind when the market drops or goes through a prolonged bear phase.
Hybrid Is The Future
Given this need for human involvement, current trends point towards a hybrid model with humans and robo-advisors working in tandem. With a self-serve option available, along with a dedicated professional who is available to address any concerns, or provide advice to investors.
Companies like Vanguard and Betterment have already pivoted to this model, with many more likely to follow suit, making way for a hybrid future. It still remains to be seen how the actual trading and asset management gets done here, and where exactly the 'robo' lies in robo-advisors.
The industry's one-size-fits-all viewpoint proved to be a mistake, and its biggest stumbling block, given different goals, timelines, and financial requirements of different investors, making it necessary for a human financial planner to cater to the same.
Increased Personalization
Addressing the key drawbacks of earlier generations of robo-advisors, many newer entrants are upping their offerings with increased personalization and customization. This goes beyond just goal accounts, and risk assessments, to even thematic investing, with focus on geen, sustainability, and the likes.
The SoFi automated investing platform allows investments across different goals, offering differing times, and allocations adjusted accordingly. Similarly, WealthFront offers curated portfolios that investors can purchase, aligned with various goals, and individual sensibilities.
This is just the beginning, and with advanced AI, systematic allocations, and automated trading solutions, there is no limit to the level of customization and personalization that can be offered to investors.
Millennials and Gen Z remain unimpressed with the conservative rates of returns, so robo-advisors that sell stocks short, dabble in derivatives, commodities, and other exotic products is not that far off.
Employer-Sponsored Retirement Plans
Millions of workers still lack a tax-exempt retirement savings plan, and this is especially true for those working at small businesses that don't want to deal with the complexity or expenses of setting up such accounts, but services such as Betterment For Business have an attractive solution in this regard.
With a number of states addressing this lack of accessibility with their own state-sponsored retirement plans, automated services and robo-advisors fit right in. This is the next big avenue for this segment, something that has so far gone unnoticed, and could potentially result in $100s of billions in fresh AUMs. 
Final Words
Despite the lack of excitement, robo-advisors have grown by leaps and bounds over the past decade. Having addressed many of their shortcomings, and with a clear picture of customer requirements, and their own value proposition, we can expect a bright future for this sector going forward.