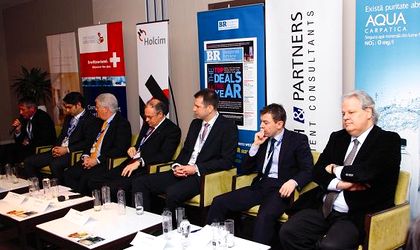 2010 was a tough year for all companies active in Romania and Swiss investors were no exception. Cost control strategies were implemented across every industry and investment plans put on hold. Nevertheless, the worst of the crisis is behind us, claimed Swiss investors present at the second Swiss Business Forum organized by Business Review last week, adding that there are signs of recovery.
Simona Bazavan
Romania is a unique case among European economies, reporting four consecutive semesters of recession. Faced with harsher market conditions and the government's incapacity to generate coherent economic recovery strategies, companies had to reconsider their local business.  While addressing the problems that the local business environment is facing, company representatives argued that all is not bleak.  "I am convinced that we have reached the bottom line. There are clear signs that the economy is picking up," said Marcus Wirth, CEO of Holcim Romania.  Present at the event, Jean Valvis, president of Valvis Holding, added that Romania continues to hold huge business potential.
However, a lot depends on the much called for stabilization of the legal framework as well as on the commitment of the Romanian political class to come up with sectorial strategies. Romania has what it takes to become an Eldorado for Swiss companies, according to Marc Bruchez, chef de mission adjoint with the Swiss Embassy to Bucharest.  From the cement industry to pharmaceuticals and FMCG, Swiss investors have been a strong presence in Romania in recent years. New areas of interest for Swiss companies are the infrastructure and tourism industries, said embassy representatives.
The second Swiss Business Forum was organized at Capital Plaza Bucharest and was sponsored by Valvis Holding, Horvath & Partners, Heidi Chocolat, Novartis, Holcim and titirez.ro. The event gathered around 70 attendees.
simona.bazavan@business-review.ro