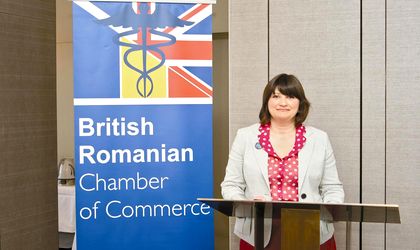 In spite of an economic crisis whose impact on the Romanian economy has lately seemed to be intensifying, British investors are continuing to strengthen their presence in Romania, capitalizing on the remaining local competitive advantages. Meanwhile Romanian companies are turning their attention to export opportunities to the UK, Anne-Marie Martin, CEO of the British Romanian Chamber of Commerce (BRCC), told Business Review.
Simona Bazavan
Is Romania still an attractive economy for British investments and, if so, why?
There are plenty of opportunities in many developing sectors, such as infrastructure development across the board, the tourism industry, health and education sectors, and of course financial services. The UK has an abundance of expertise in these key areas and it is ready and willing to share that with Romania.
What do you consider to be the opportunities and also the setbacks of the Romanian business environment?
Romania's journey towards meeting its EU membership commitments will continue to improve the country's economic infrastructure and its clear ability to support foreign direct investment. FDI has brought Romania many other advantages apart from the obvious, namely an abundance of foreign expertise in many sectors, through the influx of many large multinationals, particularly in banking, consultancy, legal services and manufacturing.
What challenges and opportunities has the economic crisis brought to Romania?
The recession in the Romanian economy appears to have bottomed out at last, with an expected return to growth (albeit moderate) during the second half of 2010. The planned budget cuts in the public sector are expected to bring about some political instability as Romania will face an element of inevitable social discord and even unrest. Whilst unemployment is set to rise, we may nonetheless see a further brain drain as skilled and experienced workers seek good jobs on other markets.
On the up side, business has had to take a long, hard look at how it functions in times of recession and review the very way of doing business, ie doing more with fewer resources – working in a "smarter" way – and this is a useful tool for longer-term operational strategy.
As a chamber we are also seeing more and more Romania-based manufacturers reviewing their export strategy and we are fielding enquiries into how to export to the UK which is a very new phenomenon compared to even two years ago. There is clearly a greater need and willingness to expand the export geography to friends further afield in the EU family.
How would you say that the local political environment influences business opportunities in Romania?
The main things that business needs are stability and concise, precise and speedy decision-making with consistent implementation and interpretation of the rules and regulations governing how business is done. Furthermore, the business community in Romania is made up of highly experienced and expert people who are willing to assist the government, through consultation, in setting the long-term business agenda for Romania. We, as a chamber, along with our colleagues in the bilateral chamber network, have consistently encouraged the government to consult the business community regularly and proactively.
What was the value of British exports to Romania and Romanian exports to the UK in 2009 and how did it compare to 2008?
According to the Romanian National Institute of Statistics (INS), the bilateral trade for January-October 2009 amounted to EUR 1.5 billion. UK exports to Romania reached EUR 705 million, which accounts for 2.2 percent of total Romanian imports and 3 percent of Romanian imports from the EU, placing the UK tenth in the list of Romania's import partners in the EU. The value of exports decreased to 73.5 percent of the exports during the same period in 2008. UK imports from Romania reached EUR 800 million, 3.3 percent of total Romanian exports and 4.5 percent of Romanian exports to the EU. The UK is Romania's sixth main export partner in the EU. The value of imports decreased by 17 percent over the same period in 2008
British exports to Romania consist of machinery and electrical equipment, textiles, chemicals, pharmaceuticals, road vehicles and telecom, while Romanian exports to UK mainly represent textiles and clothing, machinery and electrical equipment, power generation equipment, furniture and metal products.