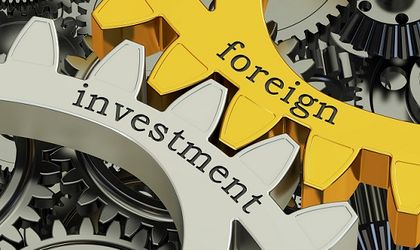 Romanian investors made total direct investment of USD 883 million in other countries until the end of 2017, the smallest amount among the 28 European Union member states and similar to the investment abroad registered by countries like Kenya or Cambodia, according to "World Investment Report 2018" released by United Nations Conference on Trade and Development (UNCTAD).
International statistics show Romania is the smallest international investor in Europe, as local investors prefer to focus on the local market or don't have enough capital to expand abroad.
In December 2017, foreign direct investments (FDI) abroad of Romanian residents amounted USD 883 million – or EUR 736 million, according to Romania's central bank data. Data do not include investment of central bank.
This amount is similar to the FDI outward stock registered by third-world countries like Kenya (USD 826 million), Cambodia (USD 911 million) or Guatemala (USD 992 million).
But Romania is a very small investor abroad even compared with its neighbours.
According to UNCTAD, Romania's FDI outward stock registered in December 2017 is the lowest among the 28 EU member states, far below Poland (USD 31 billion), Hungary (USD 28.6 billion), the Czech Republic (USD 23.7 billion), Estonia (USD 7.7 billion), Slovenia (USD 6.9 billion), Croatia (USD 6 billion) or Bulgaria (USD 2.8 billion).
The outward FDI stock is the value of the resident investors' equity in and net loans to enterprises in foreign economies, according to the Organization of Economic Cooperation and Development (OECD), which sets the international standard of FDI.
Foreign direct investment is an investment in a business by an investor from another country for which the foreign investor has control – owning 10 percent or more of the business – over the company purchased.
The situation didn't improve much in 2018. Recent National Bank of Romania (BNR) data show that Romanian investors made total direct investment of EUR 772.8 million in other countries until the end of March, up 5 percent compared to December 2017.
Official data show foreign investors made total direct investment of EUR 75 billion in Romania until the end of March 2018, a historical high, up 2 percent (EUR 1.5 billion) from December 2017.
At the end of 2016, the main countries of origin of FDI in Romania were the Netherlands (24.3 percent), Germany (13.2 percent), Austria (11.9 percent), France (6.9 percent), Cyprus (6.5 percent), Italy (6.3 percent), Luxembourg (4.3 percent), Switzerland (3.6 percent), Greece (2.8 percent) and Belgium (2.7 percent), according to the central bank.