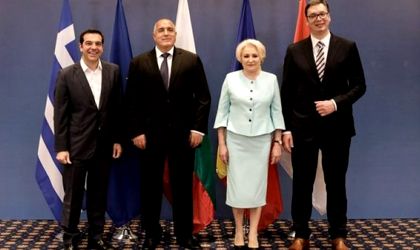 Romania, Bulgaria, Greece and Serbia have come to an agreement for a common transport ring that will include railways, ports and motorways. A new company will be established to make the projects a reality, according to announcements made in a meeting in Salonic, according to Bulgarian website Trud.
The Bulgarian PM, Boiko Borisov, said that there will be a single tax that those who will pass through the ring will pay. The Serbian president Aleksandar Vucic said the taxes that will be collected will be split among the four states.
Borisov added that the four leaders also had a first discussion about the gas transport systems.
Greece's Alexis Tsipras said that the Bulgarian presidency of the Council of Europe was very successful.
"Don't forget that the Balkans are at the crossroads of three continents and they will play an essential geopolitical and economic role in the future," Tsipras said. He added that through the steps made during Bulgaria's EU Council presidency, the Balkans have a new perspective.
"For Serbia, the Salonic reunion is very important. For us it's very important to support Bulgaria, Greece and Romania," said the Serbian president, who also added that the leaders talked about a common company for the first time that could manage transport infrastructure projects.
Romanian PM Viorica Dancila congratulated Borisov for the successful EU Council presidency and noted that Romania will take over the role next year.