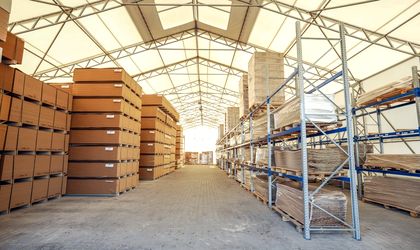 ROCA Industry, the holding which draws together the building materials manufacturers included in the portfolio of ROCA Investments has signed the acquisition contract of a 70% package of shares from Eco Euro Doors (EED).
The most important Romanian manufacturer of doors for residential buildings, with an experience of 27 years on the market and over 320,000 units sold in 2021 will, therefore, join the two other active companies of ROCA Industry – BICO Industries and Sarcom.
 "This transaction is in accordance with ROCA Industry's strategy aimed at developing and scaling powerful local brands from the field of building materials, both due to a common strategy, as well as through the synergies generated by their activities. With The know-how and resources we already have in this field of activity we shall be ready, together with the management team of EED, the challenges and opportunities lying ahead, with the purpose of leading the company towards the next level. Eco Euro Doors is an acknowledged player, with a strong position in the industry, a varied portfolio and a well-defined trading strategy. We are glad that its vast experience will become part of ROCA Industry and we are ready to continue developing this Romanian brand. According to our plans and objectives, Roca Industry has a huge potential for contributing to the increase of the competitiveness and autonomy of the local building materials industry," stated Liviu Stoleru, CEO at ROCA Industry.
With a turnout of almost 13 million euros in 2021, Eco Euro Doors will continue to develop by introducing new products adapted to the changing needs of customers, by focusing on the Premium niche and extending its clients portfolio and production facilities.
"Today we open the door for a new chapter in the life of Eco Euro Doors, and we are happy to join ROCA Industry. We believe in the same values, in the need to be quick and resilient in business, and we share the same trust in the ability to build a solid future. Through our plans and strategy we have always aimed to respond to the changing needs of Romanian customers and we will continue to develop and diversify our products portfolio, at a time with favorable auspices for our industry, whereby customers tend to become more aware of, and careful about their living space," stated Claudiu Cășvean, founder of Eco Euro Doors.
By focusing skills and resources on the field of building materials, ROCA Industry aims to create common strategies and synergies in the activity of its companies. BICO Industries is the largest local producer of nets and fiberglass reinforcements, as well as one of the main producers at European level, while Sarcom is one of the largest manufacturers of paints and varnishes in Romania.
This transaction takes place in the context of a positive dynamic of the oil producers' sector which, in 2020, was estimated at a total value of 140 million euros at local level, and with an annual growth rate (CAGR) predicted to reach 6% between 2022 and 2025. At an European level, the prediction for this growth rate is 7% for the same period, according to Interbiz Research Consulting. At the same time, a growth of 6% is expected in the sector of residential buildings until 2024, while Romania is, according to Eurostat, the country with the highest growth rate of individual housing properties, with no less than 96.8%.
The building materials holding ROCA Industries will be listed on the AeRO market of Bucharest Stock Exchange, and the latest investment contributes to the implementation of the company's long-term strategy, which is to build a solid structure, made of investors, contractors, specialists from various fields and a dedicated management, with a high ability to adapt to any economic conditions.
ROCA Industry includes, under the auspices of a specialized holding, a number of Romanian building materials manufacturers and its aim is to generate value by implementing a consolidation and modernization process for all its Romanian manufacturers.
The projects of our holding shall facilitate, in a long-term perspective, a constant growth of the local industry competitiveness, but also a decrease of its dependence on imports, while, at the same time, having a positive impact on the Romanian economy as a whole.