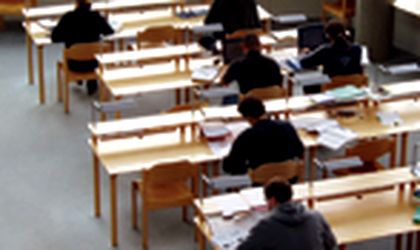 Recruitment firms are dealing with the negative effects of the financial crisis. Most companies have suffered a slowdown in their activity of between 50 and 80 percent, says Loredana Vladareanu, head of recruitment & selection services at HART Human Resource Consulting.
It's a similar picture elsewhere. "Budgets have been drastically cut, few new jobs are being created, and what is mostly being done is replacements. A lot of companies are trying to recruit internally if they have an adequate HR department and are only turning to recruitment companies for positions which are difficult to fill," says Florin Ochiana, HR operations manager at Lugera & Makler.In 2008, the firm had a turnover of EUR 18.5 million. "This year we will attempt to maintain the same level, or, if the crisis worsens in Romania, at least reach the same turnover as in 2007," adds the manager.
At the moment, the company has approximately 400 open positions for permanent and temporary recruitment. "The volume is down by half since last year, before the trigger of the crisis," says Ochiana.
Demand for staff will shrink and lay-offs are expected in real estate, the car industry, construction and banking, the sectors that have been hit hardest by the crisis. "While all sectors are affected, the only
one that remains somewhat constant is FMCG, food and non-food
mid-priced cosmetics. Of the non-food FMCG segment, electronic home appliances have been influenced, says Daniela Necefor, managing partner at Total Business Solutions.
Personnel are sought in IT (programming) and engineering and sales (especially middle managers). Specialists, such as electricians and doctors to work abroad, are also in demand. Few positions are available for operators in production, since this sector has been strongly affected by the current economic situation, explains Gabriela Crainic, research driver at Manpower, which posted a turnover of EUR 12 million in 2008. At the moment, it is hard to recruit in IT where candidates "are somewhat reluctant to change their job as the wind blows."
"Generally, companies are seeking to hire specialists, since they are trying to take advantage of the current situation and recruit the best people on the market for less than they would have paid this time last year," she says. Cases in which new positions are created are rare. As far as employees' financial expectations are concerned, generally jobseekers who have been laid off ask for lower salaries due to the effects of the crisis. However, candidates who have a job in which they have proven their efficiency are asking for a 25- 30 percent higher salary compared to their current position, says Crainic. "We have noticed that such salary increases are being solicited mainly by middle managers and those who work in domains such as finance, logistics or project management," she adds.
Generally, salaries have been lowered by employers, not employees.
Ochiana says salaries in sales have slumped, with a sales representative now having to expect a fall of 10-15 percent in remuneration. In the real estate domain, expectations have also dropped. "However, income has remained rather stable because performance bonuses have increased."
Entry-level salaries have decreased for foreign language speakers, who are now earning less than they were last year.
"This situation is also a result of the fact that salaries have not been updated to reflect the evolution of the RON/EUR currency exchange rate, while some haven't even been updated to take account of inflation, so the equivalent in RON of an offer made in EUR is lower," says Ochiana.
Expat managers more expensive than local ones
When a foreign manager sits at the helm of a company, things are more complicated, both from a logistics and pecuniary point of view. Firstly, the salary of a foreign manager is much higher – as is the benefits package – than that of a Romanian equivalent.
"The net salary of an expat can be 30-50 percent greater than that of a local manager, with the difference in the benefits package reaching approximately 50-70 percent," says Loredana Vladareanu.
If the foreign manager has had to relocate to take up the position, the package of benefits is likely to include the following: well-equipped and comfortable accommodation plus utilities, an annual or bi-annual return ticket to the manager's country of origin, a top of the range company car, fees for international kindergarten or school for children, high-quality medical coverage, mostly for the entire family, life insurance, performance bonuses and share options, plus paid or part-paid holidays.
"For a Romanian manager, the benefits package does not differ significantly in structure but will be much cheaper. It could still include high-quality medical care for the entire family, life insurance, performance bonuses and/or shares, and paid or part-paid holidays. However, the benefits which cost the most disappear: accommodation, return tickets home and school fees," says Vladareanu.
At the highest level, headhunters currently have to look mostly for top managers in pharma, retail, agro-business, industry and production.
Top managers are least sought for banking and real estate, and domains such as the car industry, construction materials and IT&C are also on a downward slope in recruiting top managers, says Loreda Dragomir, senior consultant at Stanton Chase Romania.
She says headhunters find it most difficult to land chief and senior accountants and professionals for highly specialized positions such as lean manager or PMP certified project manager.
In any case, a GM of a real estate company, leasing managers, branch managers and production managers in companies that have slowed down their operations are willing to move to a new industry for a lower salary, says Dragomir.
By Otilia Haraga