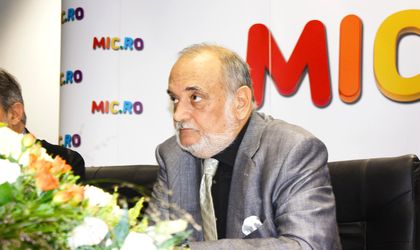 With EUR 200 million of investments plans, Romanian businessman Dinu Patriciu has found what he hopes will be a golden goose: a traditional store network which is estimated to reach 1,000 fixed shops and 2,000 mobile outlets on wheels by the middle of next year. According to Patriciu, the break-even point is estimated for April 2011, 12 months after the business was developed. Why retail? Patriciu's forthright answer: "If I have a wish, it is that the commerce imported piecemeal from the West should die".
Dana Verdes
When you think of Dinu Patriciu, you think of oil. A few years ago, when he was still running Rompetrol operations – "a business based on passion" as he has called it – who would have believed that he would leave this sector and that we would see him at the helm of one of the most explosive businesses on the local market – the retail network Mic.ro?
When he recently stated that break-even was estimated by the company for April 2011, 12 months after the business was set up, it suggested that he had a successful businesses recipe.
According to Patriciu, the total investment in Mic.ro is estimated at EUR 200 million and in the six months since the network has been opened it has swallowed up EUR 30 million.
Expansion plans
The development strategy is pretty clear, says Dan Ionescu, Mercadia Group CEO. "Now we have 100 Mic.ro fixed traditional stores. A new development direction is to form a solid network of mobile stores. These stores are developed on a 3.5-ton car platform. We have already inked a contract for the platforms with car importers Autoitalia and Casa Auto. We plan to reach 2,000 mobile units and 1,000 fixed stores by next year. We will expand in concentric circles around Bucharest, meaning Ploiesti Pitesti, Urziceni and Alexandria," said Ionescu.
Plans for the shops on wheels' deliveries are well underway. "This month we will have delivered some 30 platforms, next month about 30 cars, in December 50 units and from January 2011 they will start delivering about 120 units on a monthly basis. All the cars will be ours but the maintenance will be done by the two car importers," said Patriciu.
He added: "We plan to expand all over the country. The idea of this business is to have a Mic.ro store every 800 meters in urban areas". Patriciu estimates that Mic.ro will reach a EUR 150 million turnover by year-end.
But his development plans do not stop here. In August, Patriciu acquired the miniMAX Discount store chain, which now includes 36 shops in 33 cities. These outlets have a commercial area of 750 sqm, equipped according to European standards, and every store offers over 2,000 products at low prices.
"Currently we have 36 miniMAX stores and we're planning to open another one this week. The miniMAX network has 700 employees and a 7 percent market share for the first seven months of this year. Our strategy is to reach 150 miniMAX stores by the second half of next year," said Ionescu.
According to him, miniMAX was bought to provide the logistics platform for the entire network. miniMAX will be rebranded and repositioned. It will become a traditional store but with the same discounter policy.
Why did Patriciu choose retail?
The Mic.ro business wasn't all milk and honey at the beginning when the network was buying around 80 percent of its products from Metro. Patricu said it was an unfortunate experience for the founders because Metro could not deliver all the quantities the firm needed, just some 40-50 percent.
"The business adventure we are embarking on aims to annihilate modern retail, which does nothing but destroy the urban fabric. We want people to go to hypermarkets less often, once a month at the most, and go to the stores around the corner of their apartment block in their slippers. If I have a wish, it is that the commerce imported piecemeal from the West should die," said Patriciu passionately.
He added that he had developed the Mic.ro concept with Mercadia executives down to the very last detail, and was not inspired by the business model developed by the big European retail groups. Moreover, he criticized foreign retailers, saying they imposed a retail format incompatible with local realities on the market.
The Mic.ro business model
Patriciu said that the estimated turnover for 100 stores is some EUR 36 million and with its grand expansion plans the company is clearly aiming for billions of EUR of sales, more than even cash & carry stores.
"Some 90 percent of products sold in Mic.ro stores will be manufactured locally, which will allow us to charge low prices, while factoring in the development of own brands in partnership with Romanian producers," said Patriciu.
A store will cover an area containing 300-400 families and will have to attract some 500 customers per day, up, from the current figure of 300.
Patriciu's commercial plans are ambitious, considering that the three major networks active in the supermarket field – Carrefour, Real and Kaufland – who have each invested about half a billion EUR in expansion in Romania in the last five-ten years have not yet reached the sales threshold of EUR 1.5 billion.
According to Patriciu, his stores will rediscover the traditional ways of doing business in communities. For instance, company officials say the shops will be able to sell on credit. Shoppers can take out a card with a RON 300 limit from the store to buy groceries, which, according to company information, will be issued based on the quality of the relationship between customer and grocer. The customer will pay a monthly fee of RON 4. "The card can be used only in the store where it was issued. We started this program a month ago. Since then we haven't had any payment problems," said Ionescu.
Looking for associates
Patriciu said that in his opinion the ideal associates to run the stores are young, intellectual family people. The Mercadia Group CEO said courses were being organized for the associate position. "The fee is EUR 400 and those interested must present a EUR 7,000 warranty per unit, which will cover any undue losses by the store," said Ionescu. "The goods from the store are owned by our company, and we cover all the rent for the premises of the network. We guarantee a minimum gain of EUR 2,500 plus a share of sales. But from this sum a minimum of three employees must be paid. Also, all employees must be trained," said Ionescu. He added that the store manager will earn a net salary of RON 1500 plus a RON 300 bonus if the targets are met.