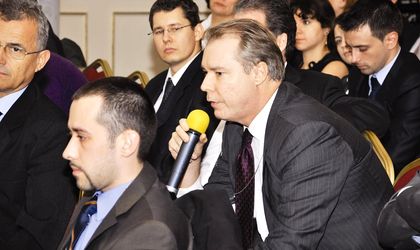 Industries such as agriculture, energy and IT should be made priorities for the government, because of their potential to give Romania a competitive advantage, according to business representatives who attended the Business Review Foreign Investors' Forum last week.
Staff
The event gathered businesspeople and state representatives, who discussed the challenges that foreign investors face in Romania as well as ways to encourage investments. Government officials gave their side of the story, announcing state measures to boost the economy. The government has approved a proposal for the formation of a transparent national registry of all public debts in relation to the private sector, they said. It has also reduced or amalgamated more than 215 non-fiscal taxes and payments, out of 500.  
The decentralization process has been sped up, added state officials. For example, in the healthcare system, more than 370 hospitals out of 435 are now managed by the local administration. Education, agriculture and culture will follow suit. The state also has in place a financing framework for large companies, small and medium sized enterprises and young entrepreneurs. 
In turn, the business community voiced its discontent with the new PPP law, which was "rushed to adoption before the summer holidays" along with flaws pointed out by the President that were not addressed in the approved version. Business leaders repeatedly complained about the lack of a fully fledged agency to serve as a one-stop-shop of information for potential investors, the lack of a real dialogue with state authorities and the lack of predictability and stability, especially in fiscal policies. They expressed their hope that before the next elections, the government will engage with the business community and government experts in a mixed working group to really reconsider the re-formulation of fiscal legislation in Romania.
Business Review also officially launched the BR Club at the event. Members will receive a premium subscription package with benefits from BR partners, the Maastricht School of Management, Samburesti wines, Aqua Carpatica and La Blanca restaurant.  Most importantly, BR Club members will enjoy free access to all BR private events in 2011, which in the first part of the year will take place at La Blanca restaurant. Also at the event, BR introduced the magazine's new layout, which includes a bigger and bolder format. With this issue, the print run has been significantly increased, and BR is preparing to re-enter the BRAT next year. We look forward to your feedback on the new layout and would like to thank our partner Unlock Research who conducted the focus groups and interviews.