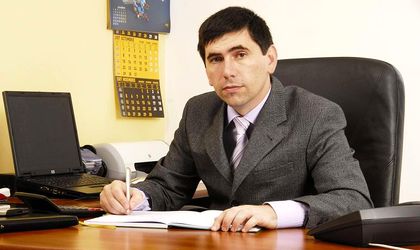 Elis Pavaje has a 19-year history on the Romanian market and is currently leader of the paving industry. General manager Emil Gota talks to Business Review about the company's current results and steps for the future.
Corina Dumitrescu
How did the company Elis Pavaje start? What was the initial investment and what kind of competition existed back then?
It all began over 19 years ago in 1991, when my father, Elisiu Gota, a professional locksmith, had the opportunity to go to Germany at the invitation of former colleagues who were working on a church, the exterior of which was made of concrete pavers. Seeing the pavers, my father thought they might have potential in Romania, since there were no paving products here at that time. This is how the first pavers appeared in Romania, almost 20 years ago. The investment was ROL 1,600, a considerable sum of money back then. Currently, we have a total production capacity of 8,000 sqm/day. It is a significant growth from the 17 sqm/day of paving previously, an accomplishment of which we are extremely proud.
Why have you rejected takeover bids by international groups?
The company has grown rapidly over time, especially since 2004, thanks to a strong distribution chain throughout the country, and the number of orders began to increase quickly. As a result, takeover offers naturally emerged. Interested companies included international groups and investment groups such as RC2 and CRH. We rejected the idea of a takeover for both financial and emotional reasons. Financially speaking, we still have sufficient financial power to continue development and we do not wish to stop here. Personally, I could not reconcile myself with the idea of owning just part of the company.
What percentage of your turnover is made up of public contracts?
Elis Pavaje has very few direct state contracts (approximately five percent) obtained through public auctions, most of which are in our production locations: Alba and Prahova.
The other state works are done through our partners, construction or assembly firms, which win auctions and use Elis Pavaje products and services for their works. Our flagship public works include Transylvania Boulevard in Alba Iulia, street repairs in Orastie and district renovation in Valea Frumoasei Sebes.
The remaining sales are to individuals and real estate developers, a category which also includes entrepreneurs with industrial projects and infrastructure works as well as public institutions in charge of various schemes.
What are the company's main profit reinvestment targets?
The money made over time has been constantly reinvested in equipment for growing and improving the efficiency of the production capacity, and then in the construction of two factories: the first in Petresti (Alba) and the second in Stoenesti (Prahova), opened in 2008.
In its 19 years of existence on the paving market, Elis Pavaje's investments have amounted to EUR 50 million.
Otherwise, the company's short and medium-term strategy has been the diversification of its existing product range, as well as the launch of new, precast products, for which there is demand in Romania. Investments in the assembly service have targeted the purchase of high-performing pieces of equipment, to ensure professional and quick assembly, as well as the continuous training of the team of assemblers. Some 140 employees at the Petresti factory
(Alba) received bicycles from the company, to give them a more economical, as well as environmentally efficient, means of
transport.
Recently you have developed projects outside Romania, in the Republic of Moldova. Do you have other such development plans in mind?
In October, Elis Pavaje was tasked by the local branch of the constructor Unger Austria in the Republic of Moldova with the arrangement of an exterior space of 17,000 sqm, belonging to the Cable Factory, active in accessories and board computers, in Balti, the Republic of Moldova. The contract amounted to EUR 340,000.
It is one of the firm's first projects of such proportions outside the country, and if future opportunities emerge, we will not hesitate to serve clients outside the country with the same involvement and enthusiasm.
How has the crisis affected Elis Pavaje?
I believe that debt recovery was and continues to be the hot topic on the construction market in Romania this year. In
order to face this issue, we're paying increasing attention to new clients who order our products, and being more cautious over the commercial conditions that we
stipulate. In terms of demand, the number of current contracts shows us that 2010 is better than 2009, when the majority preferred not to make investments.
The first semester of this year has shown positive signs for the market. The growth is owed both to newly introduced products, as well as to our gaining some of our competitors' market share.
How about your employees – how many are there, and do you intend to hire more?
Currently, Elis Pavaje has 360 employees and a production capacity of 8,000 sqm/day. Half the employees work in the two factories in Petresti and Stoenesti, and the rest deal with the distribution and pavement fitting. We will continue to hire and to invest in the training of our employees, with regard to our future development.
What are your estimations for 2010 concerning turnover and profit? How about for 2011?
With a turnover of RON 60 million in 2009, Elis Pavaje is the leader on the pavement market in Romania.
In 2010, the market of prefabricated products of small dimensions (residential and industrial paving, terrace tiles, curbs, gutters) is estimated at around EUR 75 million and a volume of almost 9 million sqm.
All in all, we expect 2010 to bring an increase in turnover of around
10-15 percent and we are optimistic for 2011, which we believe will stay at the level of 2010.
CV Emil Gota
2009 Appointed GM of Elis Pavaje, in charge of strategy, planning and business development
2001-2009 Served as economic director of the company