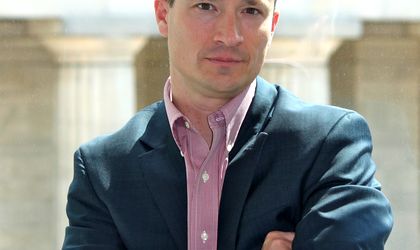 Romania has much reason to boast and celebrate since the fall of Communism just 23 short years ago. In that time, the country has thrown off a command economy, become a member of NATO, joined the European Union, and forged its own "special" relationship with the United States of America. Various representatives of the United States government have often proclaimed that America "has no better friend in Europe" than Romania. 
By Eric Stewart
Though deep, our countries' friendship has remained largely one-dimensional to this point, and these plaudits from US officials are more focused on the strategic component of our relationship and less often include discussion of the economic pillar.  Despite the US's currently minor commercial relationship with Romania, the two countries are on the verge of establishing an economic cooperation that could soon be on or near equal footing with their long-standing diplomatic relationship.
It should come as no surprise that many US companies, and others from around the globe, are coming to the conclusion that it is time to "step" into investments in Romania, and many of the companies that are already there are looking to "step" up the investments they have.
The country's accession into the European Union in 2007 required a series of government reforms that have driven Romania's modernization and reduced multiple barriers to trade over the past five years. EU Structural and Cohesion funds are helping Romania improve its infrastructure and the country continues to pursue further privatization of its state-owned enterprises.
Romania boasts a low, 16 percent corporate and capital gains flat tax rate, and it is the seventh largest market in the EU, with a skilled, hard-working and well-educated workforce.
An increasing number of American companies are taking advantage of these opportunities by investing in Romania and using their operations in the country as a hub for business opportunities in Western Europe, the Balkans, and further East.
The volume of trade in goods between the US and Romania reached USD 2 billion in 2011 – representing a 65 percent increase in Romanian exports and a 30 percent increase in American exports since the year before.
But for Romania to truly develop a more robust and "special" economic relationship with the US, it must capitalize and leverage the robust number of opportunities that exist throughout the country, including in the areas of energy (natural gas from shale, biofuels, solar, wind and oil), agriculture, financial services, biotechnology and healthcare, telecommunicationsand defense.  An "all of the above" approach by Romania to cooperation with the private sector would result in mutual benefits for Romanian citizens and the American companies that have the necessary expertise to develop each of these sectors.
There is little doubt that Romania is on an upward trajectory, but constant improvement should not be assumed.
Economic success needs continual attention and re-evaluation from policymakers. Companies looking to increase their investments in Romania also want to see a STEP from the Romanian government: Stability, Transparency, Efficiency and Predictability.
Romania, like all nations, is competing for new foreign direct investment and to keep its current investors satisfied every day, government officials must continually recognize that capital is a coward. Without these four STEP elements, companies will likely shy away in search of a safer place to invest.
As the election season concludes this year in Romania and a new government is formed in early 2013, it should work closely with the global business community to articulate a clear vision for an inviting investment climate and a concise plan for executing this vision.
Doing so will demonstrate to the private sector that Romania is serious about attracting and retaining foreign direct investments across many sectors.
Conversely, the business community in Romania must openly and honestly engage the government about the opportunities and the impediments to conducting profitable businesses in the country.
Finding ways to make the country more attractive to companies from all over the world, including American and local Romanian companies, is the key to building the American-Romanian commercial relationship and ensuring economic advancement in both countries.
Like any relationship, whether a marriage or a bilateral, nation-to-nation alliance, there will always be difficulties and disagreements.
But the true measure of the strength of the relationship is determined by how seriously and aggressively partners work to resolve the impediments.
The formation of the American-Romanian Business Council (AMRO) one year ago was a demonstration of the commitment from US companies to work on their side of the relationship.
And the positive welcome AMRO received in Bucharest from both President Traian Basescu as well as Prime Minister Victor Ponta during our inaugural business mission this past month reveals that Romania's leaders are ready to seriously engage in tapping the country's economic potential.
The plethora of opportunities throughout Romania and the commitment from both governments and the private sector show that there has never been a better time for the US and Romania to take a mutual "step" forward in their commercial relationship.
Eric Stewart is the president of the American Romanian Business Council. AMRO was established in 2012 and is a Washington, DC-based non-profit organization that promotes commercial relations between the United States and Romania.
The mission of the council is to enhance American-Romanian trade and investment, advance the American-Romanian bilateral relationship, and educate the public about its importance.
To carry out its mission, the American-Romanian Business Council will sponsor policy conferences, briefing sessions and major events featuring senior US and Romanian officials, academics and business leaders.