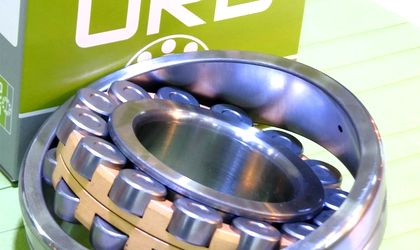 Turkish URB Group, which owns the Rulmenti Barlad bearings plant, announced today it will invest USD 18 million in its Romanian factory in the next three years, although the domestic market is flooded with counterfeited bearings from Asia, and sales plunged 83 percent in the last five years to USD 2.5 million.
Harun Adiguzel, CEO of URB Group, said that around 70 percent of the URB branded bearings in Romania are counterfeited. Moreover the CEO called for the government to support domestic production and set up anti-dumping tariffs against counterfeit products made in China, India or Turkey.
"The numbers say it all. If in 2007, the market for bearings sold in Romania totaled USD 15 million, at present it has fallen to 2.5 million," said Adiguzel.
Corneliu Pricope, general manager of the Barlad plant, said the Turkish group will continue to fight against counterfeiting, in the same time investing up to 10 percent of the turnover for business development. However, he said the Romanian market is atypical.
"If export sales increase, those on the domestic market are falling," said Pricope. He added the Barlad plant has over 7,000 types of bearings in its portfolio, in over 20,000 models.
Economy minister Lucian Bode, said the government will offer full support to the Turkish group, adding that Rulmenti Barlad is the largest employers in Eastern Romania, having over 2,400 people on the payroll.
Minister Bode went on Thursday in Turkey where he met with the Turkish vice-minister, and with the ministers of Justice, Economy and Energy. The two countries pledged to increase economic cooperation.
URB has bearings plants in Romania, Turkey and Hungary, but the group plans to open a new manufacturing facility in India, following a USD 14 million investment, according to Ismail Hakki Tuyun, financial director of URB Group.
He added that in the next three years, apart from the Romanian investment, the group will put USD 12 million in the ART plant in Turkey, and USD 8 million for the MGM plant in Hungary.
Ovidiu Posirca