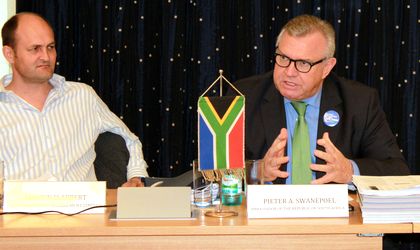 The South African Embassy in Romania has called for closer ties with Romania at a recently organized roundtable to highlight business opportunities between the two countries, which have just celebrated ten years of diplomatic relations.
New Europe Property Investment (NEPI) is the most important South African investor in Romania, owning 26 income-producing properties and two developments worth EUR 341 million at end-2011. The recent acquisition of
Romanian car battery producer Rombat by South African Metair Investments for EUR 42.8 million proves the African nation sees Romania as an investment opportunity, said roundtable participants.
"South African investment in Romania totaled EUR 700 million, and that is over a relatively short period, as South Africa  has been present in Romania since the early 90s," said Pieter Swanepoel, South African ambassador.
The country closed its diplomatic representation in Romania during the 90s but reopened it a decade ago and there are plans to set up a chamber of commerce between the two countries in the next year. The ambassador said he keeps meeting people who believe they have opportunity in Romania.
Neal Barber, associate in Blue Projects, a South African project management firm that came to Romania in 2007, says Romania has smart engineers in construction. His company has already worked on brewery extension projects and a greenfield shampoo factory for a multinational in Ploiesti.
Trade between the two countries could be boosted by sea links, according to Corneliu Gavaliugov, former senator in the Romanian Parliament. "We can sign an agreement to have a sea route between Constanta and Durban," said the senator.
In terms of GDP comparison, South Africa's nominal GDP was USD 363 billion in 2010, according to World Bank estimates, while Romania's stood at USD 185 billion.
"Since the beginning of March, around 180 visas have been issued for Romanians to travel in South Africa," said Michele Pietersen, first political secretary.
The ambassador said both countries have significant manufacturing experience in the automotive sector, and this could act as a starting point for improved collaboration.
Ovidiu Posirca