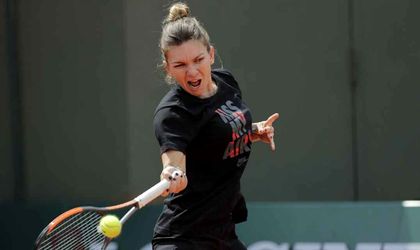 World No 1 Simona Halep will start on Tuesday a fresh bid for the first Grand Slam title of her career at Roland Garros, the only major held on clay. Last year, Halep fell to Latvian teenager Jelena Ostapenko, who ended up lifting the trophy despite having trailed behind her more experienced opponent.
Today, things seem much improved in Halep's camp, the tournament's first seed. After another dramatic run to the final of the Australian Open in January, Halep earned praise for the grit and determination she showed in overcoming difficult opponents and multiple injuries. A runner up to WTA No.2 Caroline Wozniacki in the final, she cemented her profile as a hard worker with a multifaceted talent who can craft mind-blowing shots and defend the entire court due to her innate agility.
However, Halep's volatility has remained her biggest liability. After defeating Maria Sharapova in Rome, the world's top player self combusted in the final, which she lost for the second year in a row to Ukraine's Elina Svitolina in just two sets, the first  with a tough to swallow 0-6.
Halep goes in as the favourite
Regardless of the stats, Halep is overwhelmingly seen as the favourite at Roland Garros with her experience and prowess on clay being her biggest attributes. "The most likely winner is probably Halep, as she is the World No.1, she made the final last year, and clay is her favourite surface," said Martina Navratilova in her exclusive column for wtatennis.com. "She is a favorite to me," she added. "But she could just as easily not make it to the second week," as "one big doubt with Halep is how easily she lost to Svitolina in the Rome final – the other doubt, of course, being that she has never won a major. And the pressure for that first title is only getting bigger and bigger," the two-times RG champion explained.
The same shadows are cast on Halep's odds at lifting the coupe Suzanne Lenglen by the experts questioned by tennis.com, none of whom have chosen the Romanian player as the tournament's winner. Regular contributors Joel Drucker, Ed McGrogan and Nina Pantic all picked Madrid winner Petra Kvitova, despite the fact that the famously favourite surface of the big-serving Czech is grass, as her Grand Slam tally proves. Rome winner Svitolina is seen as the likely winner by two other experts, Steve Flink and Ashley Ndebele, while Zack Cohen points to Karolina Pliskova as the champion.
Rooting for Halep, the top-seeded underdog
So far, for those who are more inclined to seeing the half empty half of the glass, Halep is part of that unenviable group in women's tennis, the former No 1 players who never managed to win a major before retiring. Dinara Safina and Jelena Jankovic are the first names that spring to mind. Before AO, that list included Denmark's Wozniacki.  "The biggest difference" between life before and after winning her first major by defeating Halep, " is really when I'm in here in the press conferences," she said, adding: "I'm not getting asked anymore [about] what it takes to be a Grand Slam champion; why I haven't gotten there yet."
Still, Halep has her supporters among the tennis greats, and nobody knows better than Belgium's Kim Clijsters what it takes to turn defeat into motivation and keep on fighting for success. "I can compare myself a little bit to Simona," Clijsters told ESPN.com. "I've been in the situation before where you have your demons, when you get to those moments, and as much as people around you can say, 'Oh, just keep hanging in there and one day it will work,' it is always a little bit in your head.
"It didn't help that after I lost [in Paris] to Jennifer [Capriati, in 2001] and Justine [Henin, in 2003] that after a while, every press conference, people would ask all those same draining questions."
But "Simona knows that she's capable of beating everybody," Clijsters added. "It's that confidence you have to try to keep building on, and have as your base, and then keep working hard and one day hopefully everything will fall into place. It happened with me."
What does Halep have to say for herself? First, she has been very steady on her feet during her practice sessions. And secondly, she seems to be more confident than ever in her chances to win Roland Garros. "I feel that I'm faster, and I can move better," she said in a pre tournament interview published by wtatennis.com.
But the most interesting thing for tennis fans is that, in Navratilova's words, "the tournament is wide open, and enormously unpredictable with no clear or overwhelming favourite." As for the Romanian fans, in particular, who have the rare chance to support a fellow national currently ranked world No 1 battle for her first Grand Slam, there's always an extra element of excitement. True tennis fans know this is a privilege in itself.
The Romanian will face WTA No 105, US player Alison Riske in the tournament first round.