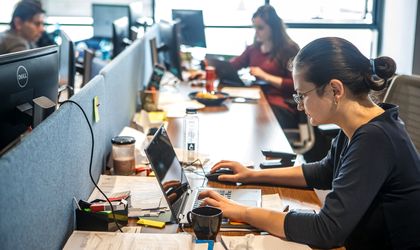 Robotic Process Automation (RPA) market leader UiPath has recorded the fastest growth in the history of the software industry, after posting an annual recurring revenue (ARR) of USD 100 million, and expects to quadruple that by the end of 2018. The company was recently valued at USD 3 billion, after raising USD 225 million in a Series C funding round led by CapitalG and new investor Sequoia.
The tripling of the UiPath's value in the past six months, company representatives told BR, was down to its growth plans, the high client adoption rate as well as the growth perspectives of the global RPA market.
The new founding round, led by Sequoia Capital and Capital G, comes six months after the company raised USD 153 million from Accel, Capital G and KP, and saw its valuation shoot to USD 1 billion, achieving unicorn status. So far, UiPath has attracted a total investment of USD 400 million. Early investor Accel, which led the Series A and Series B funding rounds, participated in the latest founding round.
UiPath plans to use the funding to support its goals of accelerating product development, expanding the partnership ecosystem to deliver complementary IA-based solutions, enhancing the role of RPA in enterprise automation initiatives, and investing acquisition opportunities.
The company has recorded the fastest growth in the history of software industry, after posting an ARR of USD 100 million, up from USD 1 million. The company expects its annual recurring revenue to increase more than 4 times at the end of 2018, compared to the end of 2017.
UiPath now has more than 1,800 global customers and adds 6 new business customers per day to the list. So far, this year the company has opened offices in the Netherlands, France, Germany, Australia, Hong Kong, South Korea and Turkey.
"We make it possible for employees of any organization to automate their boring and time-consuming tasks, which will allow them to focus on challenging, creative issues," said Daniel Dines, co-founder and CEO of UiPath. "We are enjoying strong support from our customers, partners and investors to really turn this automation future into reality. At UiPath we are motivated by the incredible potential of our platform that is the vehicle for transforming our customers' digital operations through machine learning and AI. "
UiPath created the Enterprise RPA platform with the widest adoption rate, which allows for the rapid design and implementation of software robots, or "digital workers." The company was named leader in "The Forrester Wave™: Robotic Process Automation, Q2 2018" report after obtaining the highest possible score in the "Market Presence" category and among the highest scores in the "Strategy" category. The RPA provider and also scored highest in the criteria of Bot development/core UI/desktop functions, architecture, system management and reporting.
The company expects to end 2018 with over 1,700 employees, representing a threefold increase over the past 12 months, and business operations in 30 offices in 16 countries.
UiPath's investors list include Accel, CapitalG, Earlybird's Digital East Fund, Kleiner Perkins Caufield Byers, Credo Ventures, Seedcamp, and Sequoia. UiPath won the A Series in April 2017 with 200 customers and an estimated evaluation of USD 140 million. The company then received another USD 153 million in March 2018 with an estimated USD 1.1 billion.
"CapitalG is thrilled to deepen its commitment towards UiPath. We strongly believe that RPA is the main path via which organisations will take advantage of AI, and UiPath proves this potential via an unmatched growth and an incredible impact among clients. We are convinced that our long-term partnership with UiPath will facilitate access to this transforming technology to companies around the world," Laela Sturdy, Partner, CapitalG said.
"Every company seeks to start the digital transformation of its back-end systems, and UiPath solves this sensitive point via AI-driven automation solutions. Daniel and his team have built a technological platform that will grow the efficiency of businesses and will produce a tangible return on investment. We are thrilled to partner with UiPath to support them in accelerating their already impressive growth," said Carl Eschenbach, Partner, Sequoia.
"I am stunned by the dynamism of the RPA and AI markets. UiPath is proving that they have a platform that delivers value to clients incredibly fast. We believe we are now at the point where companies will start to benefit in a significant way from automation and artificial intelligence. Accel is honoured to strengthen its support for UiPath, a leader in the era of the real digital transformation," Rich Wong, Accel partner said.