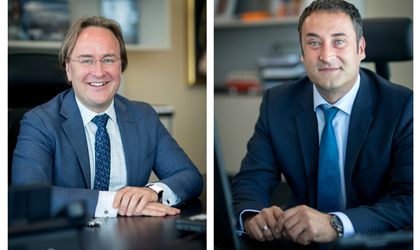 After 4 years with ING Bank Romania, Ronald Oort is appointed Chief Risk Officer (CRO) at ING Spain, where he will start work on 1 August 2018. Ronald will be succeeded by Thomas Bernert, currently Co-Director of the Treasury of Group. Also, Serge Offers will be appointed as Financial Director (CFO) of ING Bank Romania, starting with July 1, 2018, taking over from Sven Foos.
In the four years he spent in ING Romania, Ronald Oort was responsible for all risk functions within the bank (credit risk in Retail Banking and Wholesale Banking, Market and Non-Financial Risk) and was a member of the Executive Committee. During his term, he has implemented changes in the risk organization designed to streamline the department's work and to support a strong and sustainable growth of ING Romania. Open communication and collaboration between Risk, Financial, Business and Business Partners have been the key to success in recent years.
The new CRO, Thomas Bernert, began his career in Germany, where he joined the ING team in 2002. He held roles in the Financial, Risk and Treasury departments in Europe and North America. In 2016, he became the Capital Management Director of the ING Group, which merged as Treasury Director in 2017. Thomas Bernert will take office in Romania on 1 August 2018.
The new CFO, Serge Offers has a 12-year experience in ING and a solid expertise in finance and regulation. He started his career at ING in 2006 as a Trainee Finance in the Netherlands. In 2008, he joined the Group Finance Bank team and, since 2014, has been appointed by the ING Group's Head of Regulatory Reporting.
Starting 1 July 2018, Serge Offers succeeds Sven Foos, who took over the mission to build the SME division in ING Germany, starting with the newly acquired Fintech Lendico. Sven Foos was nominated in 2017 by the magazine Capital as the best CFO in Romania, following three years of activity within the bank, during which it reported consecutive years of organic growth of financial results.
"These last few years have seen strong growth in all business lines for ING Romania, which has pushed the company to streamline processes and increase productivity while also impacting on financial functions. The challenge of the financial team and at the same time one of the greatest achievements of these years was the simplification of the financial functions, but at the same time the alignment with the dynamics of the regulatory requirements", said Sven Foos regarding his term in Romania.