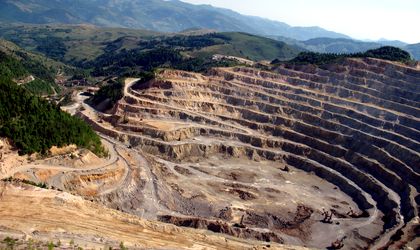 Negotiations between the Ministry of Economy and Roman Copper Corp. reached at end point last Friday as the Canadian company didn't accept clauses in the privatization contract on environment guarantees, payment terms and transparency.
On March 26 Roman Copper Corp, a company controlled by Toronto-based BayFront Capital Partners, an investment boutique, was the winner in the open-cry auction, bidding EUR 200.7 million for Cupru Min, from a starting price of EUR 57.4 million.
Dutch Dundee Holding and Australian Oz Minerals were also bidders in Cupru Min, which owns Rosia Poieni mine, with a copper deposit of around 1 billion tons.
"The state did not want to give up three clauses – the publication of the contract, the set up of a collateral deposit of EUR 32.2 million as guarantees for environment investments and the full payment of the owned sum after the issued permit and granting of the environment permits, which are suspensive clauses in the contract," said Lucian Bode, minister of Economy, quoted by Agerpres newswire.
The minster said the auction will be resumed and these clauses will remain in the next privatization contract.  Romania agreed to privatise Cupru Min by April under the EUR 5 billion stand-by agreement with the International Monetary Fund (IMF), the European Commission (EC) and World Bank (WB).
Ovidiu Posirca