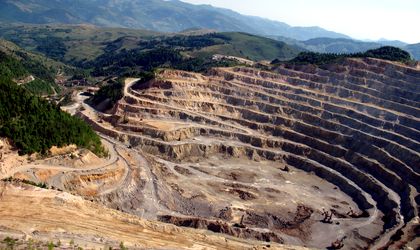 Canadian Roman Copper Corp., a wholly-owned subsidiary of investment bank BayFront Capital Partners, which bought state-owned Cupru Min for EUR 200.7 million, last Thursday, promises increased copper mining production and jobs in Alba County.
Roman Copper Corp. is the bidding vehicle formed by BayFront in late 2011 to participate in the auction organized by the Romanian Office of State Ownership and Privatization in Industry (OPSPI) on March 26. Selling Cupru Min was a demand put forward by the IMF, European Commission and World Bank, under the EUR 5 billion stand-by agreement closed with Romania.
Mike Curtin, partner at BayFront, said the bank's priority is to appoint the management and operations teams to gauge the mining potential in Rosia Poieni.
The Rosia Poieni copper deposit has a commercial value of around EUR 5.7 billion, considering that copper is currently traded on the London Metal Exchange at around USD 8,500, or EUR 6,400.  The level of royalties paid for exploiting this commodity currently stands at 4 percent.
The mining capacity of Cupru Min averaged at 5,000 tons yearly, but the extraction and processing capacity can be extended to 15,000 tons yearly.
Curtin said the Canadian firm will develop a mining plan that meets environment safety standards, in the same time solving the past issues from the mine.
"We didn't create the environmental problems at Rosia Poieni, but we're going to fix them," said the BayFront partner.
BayFront is currently working with a syndicate of investment banks to attract investors for expanding the Rosia Poieni mining works.
Ovidiu Posirca

 Rosia Poieni mine; Source: Cupru Min website