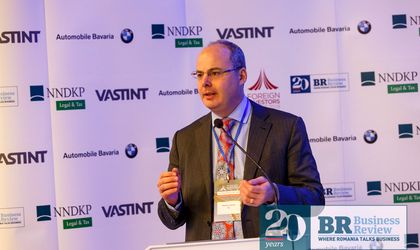 Thomas Lubeck, the regional manager for central&southeast Europe, says that 1 percent of the biggest companies in Romania generate over 60 percent of the national turnover, suggesting that this is one of the highest levels in the region.
Lubeck said during the first day of the Foreign Investors' Summit (FIS) that the investment pipeline of the institution in Romania stands at around EUR 140 million at present and the portfolio of investment is quite diversified.
He said that Romania's economic growth is one of the best in Europe but a lot of the output expansion came from investment in consumption and less from investments in infrastructure.
Lubeck welcomed the enforcement of fresh legislation on Public Private Partnership, underlining that is a very good vehicle for more efficient delivery of infrastructure.
"What we plan to do is take a closer look at this and find out whether there's updates needed with the numbers and try to work with the government to close this gap," said the IFC representative. He said European funds can help Romania close the gap in terms of infrastructure standards versus Europe.
"Leaving free money on the table is really unfortunate – that should be the first priority – a lot of money is available from institutions like EIB and the World Bank, plus a lot of expertise," said the IFC representative.