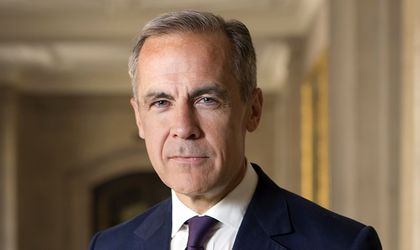 In an exclusive interview with Bloomberg, governor of the Bank of England Mark Carney, the 53 year-old Canadian appointed to the job in 2013, said he spends half his time at the helm of the financial institution preparing the financial system and the economy for Brexit. The first non-British citizen to hold the position, he described his role as that of a disruptor.
As the head of the BOE, Carney's agenda mixes topics such as Brexit, negotiating new regulatory standards, and adapting the 324-year-old institution to its expanded supervisory responsibility. "You don't need an outsider all the time, but at the time it helped," Carney told Bloomberg.
Carney's term at the helm of the bank will be dominated by Brexit, which was not even in the cards when he took the position. Asked whether he worries about becoming known as "the guy who happened to be at the Bank of England when all this stuff happened," Carney said that was included in the job description. Referring to the weight of Brexit-connected workload, Carney said that takes 50 percent of his time. "We spent a fair amount of time in the contingency planning, but now it certainly does crowd out other things. But it should, because the issues are incredibly important. We have a responsibility, at a minimum, to manage through the downside if there were a disorderly outcome, something unpredictable," he said. "We have to take as many of those risks off the table, make sure the system functions as well as possible. We're doing that," Carney argued.
"But also it's this opportunity of constructing this new arrangement and helping the government," he added.   Asked whether, in his view, earlier perception that the dark forecast was wrong is actually making the British public complacent about the economic damage of Brexit, Carney avoided making statements about the views of the British public. "I think that what we did as an institution and specifically the FPC—the macroprudential authority—was take a look at what could happen and then take a series of steps to mitigate those risks. And that took away some of the downside," Carney said.
"This institution, I will say this, was very well-prepared for the referendum result. We had put in place everything we needed to do with the major central banks around the world. We had used our supervisory authority to get the banks in a position for a vote they never expected to happen. They were not happy that we were moving them into position to be resilient for that. We had prepositioned £250 billion of collateral—more than that, of realizable ­collateral—with us so we could stand up and be prepared the morning after the referendum," he said.
Speaking about the role of the financial institution he is heading, Carney stressed that a lot of the important financial reforms in Europe had their genesis in the Bank of England. "If you think of the too-big-to-fail legislation, effectively the core ideas came from this institution or certainly this institution plus the broader financial sector. So that's U.K. leadership there. I think a lot of the capital regime as well came through the U.K. So I think a less direct channel between what will still be the world's leading international financial center and European policymakers will have an impact."
In some circles in Europe there is a greater predisposition to ring-fence financial activities, he said. "That could lead to a very large but effectively local financial center in Europe, as opposed to a global financial center, which I believe London will continue to be. There are real benefits for Europe as well as the U.K. in having access to what is a global, resilient, and fair financial sector, which is what London is."