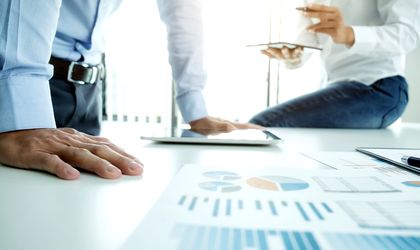 It is difficult to know how long the economic downturn caused by the coronavirus will last, but the amount of venture capital funding for Romanian tech startups during the first four months of pandemics looks decent.
By Claudiu Vrinceanu
More than 10 tech startups raised a total of EUR 4.5 million in March – June 2020, a level comparable to pre-pandemic times, but negotiations for almost all the investments had their roots before March 2020. Is the current situation quite as gloomy as previous crises were for Romanian tech fundraising? To have a realistic assessment of the venture capital landscape, we should look to the evolution of deals in the next four months.
Who are the movers and shakers of VC funds in pandemic times? For many companies with growth potential, the pandemic can be "an academy" to reinvent themselves, and the high-potential business verticals are now healthtech, cybersecurity, edu-tech, and agritech, according to VC fund managers in Romania. Since March, venture capital fund managers have been close to the startups in which they have invested and have sought solutions. In a tight market situation, profitability becomes more critical when evaluating current portfolios as well as potential investments. Obviously, some solutions have been related to cost cutting, others have been attempts to take care of companies, founders, and people in companies, and other solutions have been related to opportunities that may arise.
In the tech area, companies seem to be less affected by the current situation, but it is very clear that we will see a resettlement of the market. Investment fund managers predict that in the near future – but not the very near future – we will see founders trying to tell their stories in a different way, addressing risks that may arise. It is important for these risks not to be hidden, but communicated to others and understood.
Besides healthtech, education, and RPA, cybersecurity is one field with major VC investments closed in 2020.
"In the last few years, the complexity of cybersecurity threats has been on the rise. All analyses point to it increasing even more in the future. Clients of all sizes, small and medium enterprises especially, need solutions that are both effective and simple to use, manage, and understand. The complexity of the problem needs to be balanced by the simplicity of the solution," said Cristian Munteanu, Managing Partner at Early Game Ventures.
Such small businesses use managed service providers (MSPs) for all their digital needs, from Internet access to cloud storage, processing, and hosting.
One example is CODA Intelligence, Early Game Ventures's latest investment, which adds value to small companies that have security or compliance issues by proactively signaling risks and threats. This approach simplifies the management of computer vulnerabilities in a process that becomes easy to understand and may be prioritised by business people without a technical background.
Despite the crisis generated by the pandemic, investment funds focused on Romanian tech want to continue what they started to do a few years ago: investments in deep-tech companies, mainly companies based on services and products in the enterprise and B2B area, with great potential for international expansion. Of course, new verticals have now appeared as opportunities generated by the current situation – we have an explosion in e-commerce and investors have started to look to this area as well. Perhaps these verticals will be the next movers and shakers of VC funds.