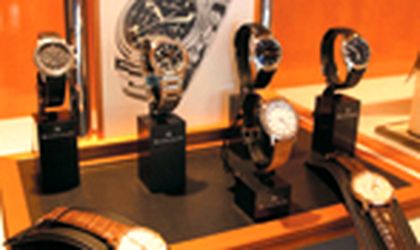 The Romanian market of Swiss watches increased by 70 percent from 2006 to 2007 and is the second biggest market in Central Europe after Poland, says Ion Schiau, CEO of Chronotime International. Last year, following the BaselWorld Fair, the company brought to Romania several strong brands on the luxury segment such as Bell & Ross, Lemain, Concord, Romain Jerome and Graham. These luxury brands sold very well and people are receptive to new models, say watch firms. "The best sold watches in Romania are Tissot and Longines which are loved by everybody," says Schiau.
The company has brought to Romania the Titanic-DNA model from Romain Jerome, one of the exclusive pieces exhibited at BaselWorld, the luxury watch fair. "This brand brought steel from the Titanic and this steel was rusted using a special method," says Schiau. "So the future buyer will walk with a rusted watch on their hand." The Chronotime CEO said the company already has a wide range of pieces from various brands but this year it plans to enlarge it even further on the luxury segment with brands that are not yet in the country. The company imports Swiss brands to Romania. Helvetansa is currently underway with expansion plans and will open another store this year after the more recent opening made in Pitesti, Adrian Stoican, managing director of Helvetansa Romania, told Business Review. The new store will have a surface of approximately 200 sqm and will be opened in a central area of Bucharest, on the Victoriei Avenue, across the street from the Muzica store.
The cost of renting such spaces is rather high, especially since they are located in central areas of the city. "It is around EUR 120 per square meter," says Stoican.
But despite such high costs, Stoican is not tempted to open stores in commercial centers. "I do not believe in commercial centers for luxury products since a person who goes into a commercial center does not come to buy luxury goods. They come to have fun, and buy something that they do not necessarily want to pay much for," he said. "If I as a potential buyer want to acquire something that is very expensive, about EUR 10,000 or 20,000- 50,000, I would not go to a space that was so crowded," says Stoican.
Helvetansa currently has two stores in Bucharest and one in Pitesti but their surface area varies. The smallest Helvetansa store has a surface of 16 sqm while the other one located in Bucharest spreads over 75 sqm.
The expansion strategy started with the opening on March 8 of a store in Pitesti in a pedestrianized area. "From the first day on which we opened, we sold without having advertised at all," said Stoican.
The opening of the store was an opportunity. "The person who had the respective space used to be our customer but did not have the necessary means to develop this activity. So I proposed to take over the space," said Stoican. The store measures 32 sqm and yields revenues, also helped by the fact that it is in a town close to Bucharest. In just one month, three Mercier watches were sold in the Pitesti store.
Currently, there are in total 15 employees in the Helvetansa stores who are undergoing training from foreign professionals. "In Romania there are not very many places where you can train personnel to sell such products. Those who come to us for employment are from two different environments: people with some experience in commerce but who have not sold such specific products, and students."
Helvetansa posted a EUR 6 million turnover in 2007 and this year Stoican expects the business to grow by 20 percent on a market that he says will double by 2010. Jewelry represent 15 to 20 percent of the business "but we are confident this ratio will increase," says Stoican. The best sold "bling bling"
among brands hosted by Helvetansa are Boucheron, Piaget and Chaumet.
The most expensive timepiece that Helvetansa has sold was a Piaget-Tourbillon Relatif which went for EUR 230,000.
"There were only 20 pieces produced and the one in Romania was the only one in 17 European countries," says Stoican. "It could not be found even in the Piaget boutiques in Germany or Austria."
One of the brands that Helvetansa is preparing to introduce on the market will be Moser, which is part of a class of watches with lesser-known names but which are "part of the watch aristocracy."
The watch dealer will only bring six pieces which are expected to arrive next year. In order to bring this brand, the order was made as early as 2007. "This is because we have to stand in line. There are others which decided before us to purchase them. In fact, the brand has only been sold for four years and some were more courageous and ordered from the start," says Stoican.
Prices for a Moser piece will range between EUR 10,000 and 30,000, this being a brand "with a very tormented history" that has only in recent years been rediscovered. "In Switzerland's history there are many such watches that are dormant, the brand may have gone out of sight but it still exists and can be unburied by the so-called watch archeologists, says Stoican.
However, such a long waiting period is not common to all watches. "There are watches that you can obtain relatively quickly, in two or three months, but others for which you have to wait for two years," says Stoican.
Apart from a range of more sophisticated very high-end and unique pieces, Helvetansa also plans to increase its attention to the middle-range products such as Tissot, Longines and Rado.
There are unique combinations of materials which one can find, for example in Cartier's Roadster models made of white gold and wood from the walnut tree or in Audemars Piguet l's model Royal Oak Carbon Concept Tourbillon, say Helvetansa representatives.
Paladium is "the material of the moment" as many watch houses use it in their collections. As far as mechanisms are concerned, the tendency is to innovate and go for more complicated mechanisms.
"Fetish colors" are pink and orange, but black, white and chocolate colors are still fashionable. There are also thematic watches, for example the watch created by Ebel which is dedicated to the soccer championship that counts down the time starting from minute 45, the duration of one half of a soccer game.
By Otilia Haraga