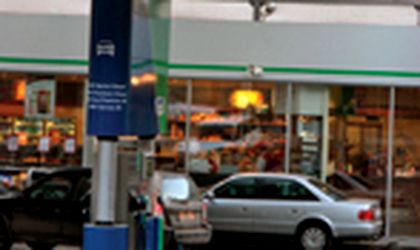 When the cost of oil goes up, production costs increase and profits fall in industries that depend on oil. Producer costs – not consumer gasoline costs – are the reason high oil prices threaten to shrink the industrial production of goods directly affected and also of energy-intensive products such as aluminum and paper. This threat affects all new and old industrial economies, whether those nations import or export oil.
The worsening global economy and a weak oil consumption outlook are keeping the international oil market well supplied, despite two downward revisions in production targets by the Organization of the Petroleum Exporting Countries (OPEC) within the past few months. Lower global oil demand and rising surplus production capacity through at least mid-2009 reduces the possibility of a strong and sustained rebound in oil prices.
Short-term forecasts indicate the price will remain low. Italian giant oil company Eni, which controls the 37-filling station network Agip on the local market, estimates an average price of USD 40 per barrel this year. "The oil industry can survive with even lower levels of crude. USD 40 per barrel is my forecast for this year," said Paolo Scaroni, Eni general manager, recently.
Moreover, Goldman Sachs' energy equity research team, which predicted last year that crude oil could rocket as high as USD 200 a barrel, has slashed its forecast for this year by USD 30, to just USD 45, as demand deteriorates.
Other market players, such as MOL, believe the price will be higher.
"In line with the analysts, we consider USD 60 per barrel a good estimate for this year, and afterwards we foresee an increasing trend. Our long-run price estimate is around USD 90 per barrel," company representatives told Business Review.
A level of USD 40 per oil barrel has already prompted oil companies to cut their investment plans for this year, waiting for a rosier outlook.
LukOil Romania, which owns more than 300 filling stations on the local market, has announced a EUR 1.5 million investment plan for this year, ten times lower than last year, as the economic crisis starts to get its teeth into the market.
"This year, we will not open new filling stations. We will invest USD 1.5 million in the modernization of the system, because of the crisis," said Constantin Tampiza, LukOil Romania general manager.
The credit crunch associated with the global economic crisis can also make it difficult to acquire financing for new projects or even to finance the investment required to prevent accelerated declines in producing fields.
Great expectations for oil prices
The price of oil has dropped recently on Asian markets. While the price of light sweet crude with delivery in March has reached USD 40.11 per barrel, a drop of 6 cents, the price of North Sea Brent oil with delivery in March has decreased by 25 cents, to USD 45.96 per barrel.
"On March 15, OPEC members will meet in Vienna and might cut oil production again in order to increase its price and sustain oil production in countries that are not part of OPEC. We do not expect oil prices to be less than USD 70 a barrel," said Hussein Chahristani, Iraqi oil minister.
OPEC has decreased its production by 4.2 million barrels a day since last September by two stages in order to increase oil prices, which dropped to USD 40 last week, after reaching a peak of USD 147.24 per barrel in July last year.
Around USD 70 per oil barrel also sounds tempting for the local oil company Petrom.
"Due to oil price volatility, it is very difficult to forecast what level it will reach this year. The financial crisis has interrupted a period of very high oil prices. The longest growth period in the price of oil came to an end in July, when the price was USD 144 per barrel. A weak economic environment could keep the price at USD 60-80 per barrel. On the long term, it could reach between USD 80-100 per barrel, considering the continuing growth of global demand, OPEC's strategy and the high costs for additional supply," Petrom officials told Business Review.
Analysts believe that all bad things will come to an end next year, but it remains to be seen whether oil consumption will rebound before then.
By Dana Ciuraru