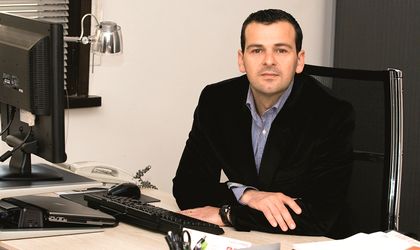 Local entrepreneur Octavian Netcu, who set up a group of companies that supply medical equipment and services, has signed a deal with UK-based Gada Group, welcoming the foreign firm as majority shareholder in his company through a share swap and cash deal. Netcu, who in turn has also become minority shareholder in Gada Group, is now planning to open a hospital specializing in medical imagery in Bucharest this March, while looking optimistically towards a revival of public spending on medical equipment this year.
By Corina Saceanu
When he met the business development manager of Gada Group back in May 2008 at a medical equipment fair in Bucharest, Octavian Netcu, then the full owner of the local Radiusmed group didn't know that two years down the road they would ink a deal and that he would become one of the foreign company's five individual shareholders.
He wasn't even convinced of the advantages of welcoming another company into the shareholding of the firms he had created over the last ten years. But it was there where the journey begun.
Now UK-based Gada Group owns 70 percent of local Radiusmed, a group of companies which provides medical equipment and consultancy services. It was not a classic deal, as Netcu didn't want to leave the firm, but to continue to stay hands on. The deal involved a share swap which made Octavian Netcu the fifth main shareholder of Gada Group, with a 5.37 percent stake in it, which was equivalent
to 40 percent of his own firm's shares.
The remaining 30 percent will be transformed into cash, but Netcu has chosen not to hurry and decided he could wait three more years, when a re-evaluation is scheduled, for the money.
"I didn't want to rush this now, as 2009 was a difficult year. In three years we hope to have grown together and for the cash part to be more solid than I can negotiate now," Netcu tells Business Review.
Prior to the deal, the entire local group, made up of Radiusmed, Integrine and Medical, was evaluated at EUR 9 million. Last year, it made a turnover of EUR 11.5 million. "They looked at the turnover and at the EBITDA too, but we haven't had the same profitability as in 2008 every year. I was straight with them and said that I wasn't expecting the 2009 profit to be too high, as 2009 was a tough year. I preferred to have a lower value now and re-evaluate in three years," says Netcu.
The 41-year-old doctor who went entrepreneurial ten years ago will continue to run the activity of the three firms in Romania and was named country manager of Gada Group Romania.
The group is now in full expansion mode. After Romanian expansion was ticked off, it will head for two or three more countries in the Central and Eastern European region, with the Czech Republic and Poland both on the map. This will allow Netcu to be involved in the regional decision making, which was among the reasons he chose the share swap deal.
But expansion for the group of firms in Romania is not finished. Several new projects are on their way, including one which marks the group's entry on the medical services market.
Gada Group Romania plans to invest around EUR 2.5 million in a medical imagery clinic, in partnership with Philips and a state-owned hospital in Bucharest. The project is already in progress and the clinic should be opened in March. An additional EUR 1.5 to 2 million will be invested next year in more equipment.
This project, while intended as a profitable venture, will include an academic element as it will be a teaching hospital. It will be financed with the firm's own funds and with equipment leasing. "This was a project we thought about at the beginning of last year. We halted it until we had completed the deal with Gada Group, but we would have done it irrespective of the deal. In fall last year we resumed it. It takes around six months to complete such a project," says Netcu.
This will be company's fist such venture, after working on offering advice and equipment to other companies that build private hospital and to local municipalities for state-owned hospitals. The firm's biggest project last year was the private hospital Arcadia in Iasi, which will be finished towards the middle of this year with an investment from the Iasi-based Fiterman family of investors.
Gada Group Romania is also working on the Bacau municipal hospital, a EUR 50 million project started in 2007 and funded with public money. It is expected to be delivered in 2011.
New projects, a bigger sales team, as well as being able to focus on business development projects rather than administrative issues should allow Netcu to post a 50 percent increase in turnover this year for the group of firms he is leading. "We are trying to reach a profitability level of 9 to 10 percent of the turnover this year, which is a good performance for the market segment. Last year, from the preliminary information I had, we didn't do more than 4 to 5 percent of the turnover in terms of profit margins. It was a hard year, with low budgets," says Netcu. "I couldn't afford to refuse projects with low profitability margins."
This year could be better, he thinks. "We expect a comeback of public projects. There are projects, some of them financed with European funds directed to local budgets. Last year the public project market was very low. Now the political landscape seems more stable and even if budgets are limited, projects are still being rolled out," says the medic-turned-businessman.
Last year the firm made almost half of its turnover for the entire year in December, which, according to Netcu, is not unusual given that many acquisitions are carried out in the fourth quarter of the year. "We have started many projects and this gives us confidence," he says.
Last year was equally trying for the Romanian clients of what is now called Gada Group. "At the beginning of the year we had a EUR 1 million private project where we delivered the equipment, after which the leasing firm blocked the financing, and we had to wait for four months until the client found another leasing company," Netcu remembers. In case of situations like this a certain sum of money is necessary to allay cash flow concerns.
When he started the business back in 2001, with an initial capital of USD 50,000, Netcu tried to take on projects where clients would guarantee payments, so that he in turn could guarantee payments to suppliers. Back then there were not many suppliers, and the number has increased in time, but he is now discussing with some of the largest suppliers the possibility of offering product packages with more flexible payment terms, so that his firm stays competitive, given these financially tight times.
A company which supplies medical equipment and which needs working capital may not find it so easily from an investment fund. Netcu himself didn't partner with an investment fund, as Gada Group is a company which offers more or less the same services as Radiusmed and the other two firms were offering in Romania.
"This is the first such move in this field in Romania. For the moment, it is hard to find investors that are not working in the field who are willing to invest. The medical equipment market is chaotic; investors are avoiding it in Romania for the time being. With medical services, it's a different story," Netcu explains.
The market however shows potential and has not yet matured. "This means there is uncertainty on the market, but if one wants to become an important player, one should combine capital with experience in this field," he believes.
Would he have been better off staying in a similar job to the one he left in 2001, rather than starting his own venture? Back then he was the head of the medical equipment division with Phillips in Romania. In ten years, he could have been making EUR 100,000 each year, he calculates. "But this doesn't mean there hasn't been a return. And much of the money has been reinvested in the business," says Netcu.
corina.saceanu@business-review.ro