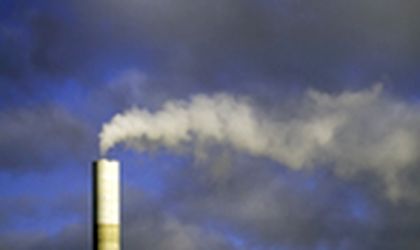 As the current international financial crisis spreads like influenza throughout the commercial world, industrial companies across the European Union are seeking to mitigate the side effects in any way they can. One such easing comes from the European Union (Emission) Allowance (EUA), an asset that can easily be transformed into cash. Romanian electricity generators, metallurgical firms, petro-chemical sector and cement industries have got them too.
The EUA could be described as the "securitization of a responsibility". This carbon credit was designed by the authors of the Kyoto Protocol to allow companies to buy and sell this responsibility in the same way they buy and sell coal or oil, with the goal of reducing global warming. Basically, industrial firms must turn in EUAs commensurate with the amount of actual emissions they create (measured in tons of CO2). For example, if a generator emitted 265,000 tons of CO2, it would have to hand over 265,000 carbon credits for that period.
Romania gets in on the game
While most European countries have been trading these credits since 2005, Romania's first chance to join the EU Emissions Trading Scheme (EU ETS) was the last year of the first trial period, from 2005 to 2007. But by that time, the price had dropped from highs near EUR 30 per EUA to under EUR 1. Romania joined the EU in 2007 and by the time the Romanian authorities actually issued them, it was even lower. "Although Romania had a brief experience of trading EUAs at the end of 2007, few firms did so because the price was low and not many participants understood the process. Now it's the first real chance for Romania to actively participate in Emissions Trading," Daniel Butler, emissions trader for Wallich & Matthes in Prague, Czech Republic, told Business Review.
According to him, the reason for the drop in prices in the first phase was that the original allocation of EUAs to all emitters was excessive, and for the EU ETS to function there must be a tightly controlled pressure on companies to clean up their act, or buy from another source. Allocating too many ruined the whole process. After this error a more stringent approach was adopted for 2008-2012 (Phase 2) of trading carbon credits.
"Now, all 27 nations should have started at the same time, in February 2008. But that didn't happen, as some countries delayed their allocation plan approval process, the EC rejected some national allocation plans (NAPs), and some countries never quite got underway with it. In Romania's case, without pointing the finger of blame at the country or the EC, they were issued just before Christmas 2008, meaning a good ten months late. And the price dropped from EUR 30 to some EUR 15 per EUA," sad Butler.
Winners and losers
Companies such as Arcelor Mittal, Galati, Lafarge Ciment in Constanta, Electrocentale Bucuresti and Termoelectica are all players in this scheme with over 500,000 EUAs issued to each firm every year, and some cases over 5 million. For some, it's a mitigating factor in terms of the financial straits that the company might be facing. For others it's an opportunity to increase their capital.
But some have more to gain from these allocations than others. For instance, the Romanian energy companies last year received insufficient allocations and now find themselves in the position of having to buy credits on the market.
"In my opinion, all the energy companies have been under-allocated emission credits. In particular, the energy companies which run on coal or crude oil will have to buy credits from the market because the allocated quota isn't enough. For instance, the allocation received by our company, RAAN Romag Termo Branch, this year is under 2.27 million units, but we need 3.4 million. We will have to buy the difference on the market," Lelia Dobjanschi, responsible for installation at RAAN Romag Termo Branch, told Business Review.
According to her, at the opposite pole are cement industry players who have received enough emission credits that they will have some left over to sell. Banks have also bought a significant number of credits but most probably without expecting profits due to the current financial situation.
The RAAN Romag Termo Branch official points the finger at the local authorities for failing to solve this issue. "Compared with other European countries, in Romania we are facing a complete lack of involvement from the government in solving this problem. Last summer we suggested both the Economy Ministry and Environment Ministry increase the amount allocated to each installation from the energy industry, but nothing was done," said Dobjanschi.
According to her, RAAN Romag Termo Branch started a joint implementation project in partnership with the government of Denmark in 2007. "As a result of the complete modernization of the systems, we had a reduction in carbon dioxide emissions, which we sell to the Denmark government. The five-year partnership brings our company an income of EUR 600,000 annually," said the RAAN representative. The company with the largest allocation, ArcelorMittal, has announced that it will continue the investment plans to modernize its installation this year. "We are implementing a complex investment plan aimed at meeting all the necessary standards of environmental protection," said Augustine Kochuparampil, CEO of ArcelorMittal Galati. "We have already started a number of environmental projects and apart from these we have also finalized a list of other investments to be made in 2008-2014, worth a few hundred million dollars."
With large, expected reductions in industrial production around the world, as economies grind to a near halt, fewer emissions will be generated. Therefore, those surpluses that were expected to provide just a little more cash assistance, might be little big bigger, but not for the best of reasons.
By Dana Ciuraru
dana.ciuraru@bmg.ro