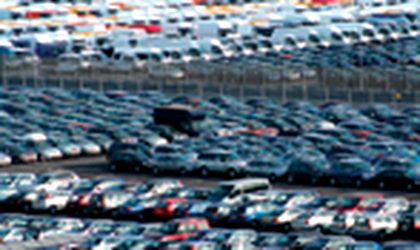 The BT Leasing website lists in its special offer category at least 50 cars, light and heavy commercials. A Mercedes ML 270 CDI from 2003 is going for EUR 20,000, and a Mercedes C200 CDI for EUR 11,000 both including VAT. Similar adverts can be found on the GE Money website, and those of other significant leasing companies active on the local market.
The fact that more and more companies and individuals are finding themselves unable to meet their installments for goods bought under a leasing contract is obvious, from the first moment one enters a leasing firm.
For instance, at the headquarters of Raiffeisen Leasing, one of the highest-profile companies on the market, there are two display boards listing cars repossessed from customers who can no longer afford to pay for them, and which are being put up for sale by their rightful owner, the leasing company.
"In car parks with repossessed vehicles, about 50 cars and some 50 light commercial vehicles are currently available for sale, most of them recovered in the last three-four months," Felicia Relenschi, GM of the leasing services division of GE Money, told Business Review. Mihaela Mateescu, Raiffeisen Leasing GM also confirms that the company has up to one hundred repossessed items, most of which are cars.
But how come a market which has almost doubled in the past three years is facing such difficulties?
Leasing market drops down a gear
"Despite the fact that Q2 is traditionally a good period for the financial leasing market, in the second part of last year the market started to fall. This drop was the result of the pollution tax – which stifled the new car market – and of the financial crisis, which started towards the end of Q3 of last year," said Relenschi.
And the data gathered by the Leasing Companies Association (ALB) confirm this scenario. While at the end of Q2 the local leasing market reached EUR 1.5 billion, in Q3 the market dropped by 12 percent quarter on quarter, and Q4 saw an even more dramatic drop of 60 percent. The market now has total assets of EUR 4.8 billion, a 2.6 percent decrease y-o-y. "There have been delays in payment from customers, because the exchange rate evolution has increased the pressure on our clients, who for the same monthly payment in EUR are paying more RON," said the GE Money official.
According to her, repossessed cars are sold either through other specialized companies or directly. "The resale of repossessed cars isn't a profit-making strategy but one by which we can reduce our losses. We don't always manage to recover all our expenses. It is difficult to resell a used vehicle, as market dealers are currently offering significant discounts on new cars," said Relenschi.
The Raiffeisen Leasing GM added that such cars have a resale period of up to three or four months. "Until now we have made a loss on only 15-20 percent of repossessed items. This resale represents a business opportunity for small companies who want to buy second-hand cars, because the leasing companies are not looking to make a profit, but only to recover their debts," said Mateescu.
Repossession road
"Repossessing a car from a customers is a last resort, and it isn't a solution we offer to everyone. It isn't a solution to boost the car fleet either," said Adriana Ahciarliu, ALB general secretary. This way of thinking is shared by the management of various leasing companies. "We have a plan for customers who get into financial difficulties. Following a detailed analysis, we identify one or more solutions to offer to our customers, like the postponement of monthly payments or contract restructuring. For this analysis we request various information to ensure that the difficulty they are claiming to be in is genuine," said the GE Money representative.
According to her, for almost 90 percent of the requests received, the company manages to come up with concrete proposals, thereby minimizing repossessions.
Raiffeisen Leasing's GM said that there is no one-size-fits-all solution, but each customer is evaluated independently. "We offer a certain kind of help to customers who have contracts with the state, and another to a private company which has lost some of their contracts and can't make monthly payments," said Mateescu. Relenschi said that the majority of leasing companies require a post-dated check before signing the leasing contract, but this isn't enough to recover the debt.
The problems will not stop here for the leasing companies. It is difficult to make an assessment of what rate repossessions will reach. Specialists say that it could amount to several thousand cases, compared with just few seen annually up until now.
By Dana Ciuraru