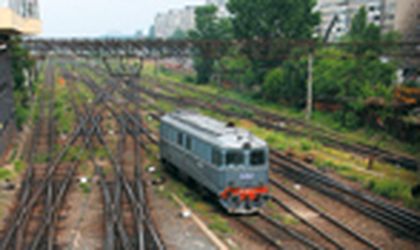 IRS, controlled by local businessman Cristian Burci, former owner of Prima TV, has started, with the recent acquisition made in Serbia, the fight for European market dominance. The Romanian group bought three factories representing 49 percent of the railway holding Friulexport, which includes MIN Vagonka (86.92 percent), MIN Lokomotiva (87.1 percent) and Specijalna Vozila (89.54 percent). "The value of the transaction in Serbia is less than EUR 10 million. Instead, we estimate the investments that must be made here will reach EUR 20 million in the next year and a half. The sum will be invested in repairing and modernizing the production factory in Serbia, because production here stopped 15 years ago," said Dan Belcea, mergers and acquisitions manager at IRS.
The official said that his firm plans to start the production of new wagons by next year and reach a capacity of 2,000 wagons and locomotives per year in the next three
years, meaning a turnover of more than EUR 100 million per year each.
Romania is not enough
Presently, International Railway Systems owns a wagon fleet that meets 45 percent of European production capacity. But it is still not enough. The production for the group's factories in Romania, meaning Astra Wagons, Romvag Caracal and Meva Mehedinti, is already sold.
"The production from the local factories is already contracted until 2011: 21,000 wagons are contracted meaning EUR 2.2 billion," said the IRS official.
The company aims to continue its investments here to be more efficient. "This year we plan to invest more than EUR 16 million in all the three production units from
Romania and the investments will continue also next year, to modernize or to increase efficiency," said Belcea.
Major clients include names such as Deutsche Bahn of Germany; OBB, the Austrian railway company; SBB, the Swiss railway company; Trenitalia of Italy and the most important leasing companies. And the list continues.
"We have more than enough customers and demand surpasses our production capacity. There is a lot of pressure on the transportation industry; costs are increasing due to the high oil barrel price. Also, there is a high pressure from the environment point of view. For instance, Switzerland does not allow transportation by road, only by train. This is why we are screening for new acquisitions," said the IRS acquisition manager.
Expansion plans
In the last two years, the railway transportation market in Europe has grown three fold. From a capacity of 5,000 units per year, it reached 15,000 units.
"We see the demand going much larger, as in the last 15 years half of the wagon production in Europe has disappeared. Only three producers with a capacity of more than 1,000 units per year are left: IRS, Tatravagonka from Slovakia and one other company from Poland. We hope to reach a 3 percent market share from world production when we end the investment program in Serbia," said Belcea.
He says that IRS is interested in investing in Croatia, Turkey, Ukraine, Russia and India in new production units. "We have plans to finalize a new acquisition by the end of the year in Turkey. We plan to have in a first stage a production capacity of 500 units by the end of 2009 and to reach 1,500 wagons per year capacity by 2010," said Belcea. According to him, this unit will cover markets such as North Africa, Central Asia, Kazakhstan, Turkmenistan, Uzbekistan and potentially Iraq.
The investment here is estimated at EUR 7 million and the acquisition value under EUR 10 million. It will be a joint venture with a group from Turkey.
Regarding Croatia, Belcea said that IRS planned to develop a maintenance and service company. "We aim to participate in the privatization process of some units there which will be put up for sale this year," said the IRS official. Another area which interests IRS is India, which liberalized its railway transportation market last year. In July, IRS officials will go to India to make first contact with the local market.
Full speed towards Russia
"The Russian market needs 1 million wagons in the next ten years. Every week we have demands from Russia for quantities which sometimes surpass European production capacity, meaning more than 5,000 wagons," said Belcea. He added: "They have a very old park but a speedy development on the natural resources sector which has to be transported from Siberia and the Urals towards the area of consumption by railway. We have set a time frame of three to
five years to enter the Russian market."
The IRS official said that the company also plans to expand the road transport side of the business, Servtrans. "The company started over one year ago to make international transports (Romania-Poland, Romania-Bosnia, Romania-Montenegro) and we plan to develop operations in other Balkan countries, meaning former Yugoslavia, Bulgaria, Greece and Albania."
Belcea added that one other direction in which IRS plans to grow is fleet management. "By the end of the year we aim to have our own operational leasing company which will serve all Europe," he said.
First suitors
And IRS has the money to go where it wants. "We have an investment budget of EUR 100 million for the next two years, which does not include the investment in the leasing fleet.
The money has come from bank loans," said Belcea. For this year the turnover of the whole group (transport company, railway production companies and the shipyard for Severin) is expected to reach EUR 400 million compared with EUR 275 million reported last year. EBITDA profit is estimated stand between EUR 35 and 40 million compared with last year when it was EUR 22 to 24 million.
The high demand has effected some significant changes on the market.
"Wagon prices have increased in the last two years by 50 percent. But this also includes the increase in the materials we used like steel and wheels," said Belcea.
Regarding the Serbia units, IRS expects to report at the end of next year a turnover of EUR 200 million for the whole holding.
"This is just the first acquisition in Serbia from IRS; we are considering other acquisitions of production units, services and transportation. They have other companies to privatize that interest us," the ITS official said.
The company has drawn the attention of top firms on the international market.
"We have been approached by companies from Russia but we do not yet believe that we have reached the optimum time to accept such a request to sell," Belcea told Business Review.
By Dana Ciuraru