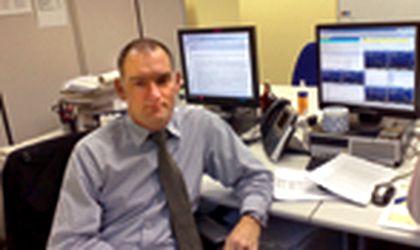 By signing the Kyoto Protocol Romania committed to reducing greenhouse gas (GHG) emissions by eight percent compared to the base year 1989. A noble cause, but one that gave lots of headaches to world-wide known companies from the energy field to automotive industry. Due to the CO2 credits trading scheme some of the money could be recovered by selling some of the credits received per each CO2 emission installation. Recently, international trading companies have expressed their interest in gaining clients from Romania.
Wallich & Matthes officials told Business Review that the company has been following the emissions trading scheme in many of the Eastern European countries since 2005 when the desk was created. "We began to study Romania last year and we have been in close contact with two environmental companies that have been active in advising companies on their responsibilities regarding the Kyoto Protocol. Also, we work with investment banks that know the local emitters due to previous corporate activities such as capital raisings or mergers and acquisitions they have been advisors on," said Daniel Butler, senior consultant at Wallich & Matthes.
How does the CO2 trading scheme work?
The Emissions Trading Scheme (the EU ETS) is often introduced first with a long discussion about the history of the Kyoto Protocol and the threat of global warming, and often leads to a diffuse and harsh discussion about a complicated transfer of the right to emit greenhouse gases. The Wallich & Matthes consultant has a easier approach to the subject. In his opinion, CO2 trading is like playing musical chairs, where credits are given out to everyone and over time, they are slowly taken away. The credits are the things that must be turned in to the authorities by those companies that emit harmful greenhouse gases each year. One credit is given for one ton of CO2 emitted. After a while fewer credits are given out and polluters are forced to either reduce internally (lower their emissions) or buy credits from somewhere else. "If they buy credits from someone else, that someone else has extra due to a much better efficiency, a reduction or closure of their emitting production, or even by reducing greenhouse gasses somewhere else in the world and have been awarded new credits in recognition of the fact," said Butler.
It is important to note that while there is an International Emissions Trading mechanism that allows credit transactions, the European Union has created EU ETS to pass roughly half of the total responsibility on to the industrial firms within the members' borders. Now Romania and Bulgaria will participate. The individual firms' responsibilities are laid out in the National Allocation Plan, a list of each industrial emitter's number of credits (EUAs), and this given number is measured against actual emissions measured over the year. If the company has a surplus of credits (EUAs), it is then able to sell them to those with deficits.
"Generally, Eastern European countries' industries have a surplus due to the measurement starting point and also since they might be running on a much lower capacity due to neglect and the need for new investment into new technologies. And the electrical generation industry is finding out just this: that they are awash with surplus credits that can be sold to finance some renovation of the facilities they run," said Butler.
A Romanian company can sell the emissions credits on an exchange in the United Kingdom, France, Norway or the Netherlands, or directly to an intermediary or end buyer. The transaction therefore usually progresses by a very simple deal agreed on the phone and a delivery from one registry account to another. Butler expects that Wallich & Matthes will have 20 of the larger clients but also a relationship with a number of local introductory agents that may forward transactions in the following year.
The present CO2 dilemma
Since 2005 Wallich & Matthes has acted as intermediary on over 5 million tons of Emissions Allowances, trading in the price range of EUR 29 down to 4 cents in Phase 1 and EUR 19.20 in Phase 2. Wallich & Matthes has regional clients, having acted as an intermediary for Slovakian, Polish, Hungarian and Czech companies with European Union Allowances. But Phase II has raised some problems. Large amounts of money are being invested in the reduction of greenhouse gasses in developing economies because it is cheaper to do it in these locations.
There comes the arbitrage opportunity: create credits at EUR 10 to 12 and sell them at closer to EUR 20. These new credits can be used by governments in the International Emissions Trading system as well as the EU Emissions Trading Scheme, and perhaps, in the future, trading schemes of Australia and the much hoped-for United States scheme. But the European Commission has put these new credit developers (Carbon Funds, Carbon Credits Project Developers, Carbon Investment Banks) on notice by saying that if there is not a global agreement by both the USA and the larger economies of China and India, and then these new credits will be not useable past 2012. This is a very big issue since CO2 trading is based on the premise of a shortage of emissions credits that force reductions by emitters. If there are too many credits, then the price of credits drops and the goal is therefore not achieved.
"Perhaps the most important aspect of CO2 trading that is pertinent to the Romanian emitter is that the CO2 market for Phase 2 is already actively traded daily in volumes worth hundreds of millions of euros – and this is before the Phase 2 allowances have been delivered. This is because the Western market players have the ability to trade huge volumes on a forward delivery basis due to their strong credit lines," said Butler.
We will have to see how much risk Romanian companies are willing to take with this trading scheme in order to gain significant money from CO2.
Dana Ciuraru