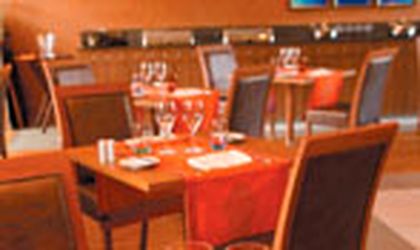 There is nothing better than a sit-down meal and a fresh drink after a tiring shopping spree. The food courts in restaurants are designed to cater for the needs of weary shoppers, but what does one expect to find in a food court? Fast food restaurants, for a start. Even traditional food, but still served for people on the run.
Typical restaurants and especially upmarket eateries have been a rare sight in Romanian shopping malls but this is starting to change. Several posh restaurants have opened units in malls, joining the small league of traditional restaurants which have been running in mall locations for some time in a move to use crowded malls to increase restaurant sales. More importantly, the units in malls are turning out to be even more profitable than those in other stand-alone locations in the city.
Newer malls come with new trends for food courts, but they aren't starting to implement new trends from zero. Existing malls in Bucharest, like Plaza Romania and Bucuresti Mall, have included restaurants with their own seating and more complex menus, although they have not entirely separated them from the fast food area.
Steakhouse Argentine, which opened its first unit in Bucharest two years ago in a villa in downtown Bucharest, opened a new unit in Baneasa Shopping City earlier this year, and the decision proved to be inspired. "We cash in some EUR 50,000 per month from our restaurant in the mall, on average, and EUR 70,000 from our first unit in the city. In time, the balance will change and the unit in the mall will have higher revenues than the other one," Liviu Moreanu, owner of the Argentine chain of restaurants, tells Business Review.
The traffic in the mall location is lighter during the week but it gets busier over the weekend, says Moreanu. He hopes to recoup his initial investment in the Argentine restaurant inside the mall in Baneasa, some EUR 280,000, in two years. The investment in this unit was a little bit higher than for the first unit.
Why would a steakhouse like Argentine, known as a meeting place for business people, open a unit in a shopping mall? "We opened it because the shopping mall itself is not the kind we are used to anyway. We address the high earners in the area, which I believe includes some of the richest people in Romania," Moreanu explains. "I wouldn't have opened it in Plaza Romania or Bucuresti Mall."
The restaurant in Baneasa Shopping City has adapted to the mall so prices there are 15 percent lower than in the other restaurant in town, for the same size portions. The downtown restaurant compensates with a better atmosphere, as it is more intimate, says Moreanu. He might consider opening other units in shopping malls, but only if the price of imported Argentinean meat goes down, which is not impossible, considering that for the first Argentine restaurant the price decreased over time.
Meanwhile, Moreanu is planning to open two more Argentine units next year, one in Mamaia, near a hotel in the seaside resort, and one in the old part of Brasov. He has also expanded the Argentine business with a catering and event organizing component, called Argentine Events, which serves the same food as in the restaurants, and employs French bartenders.
Trotter Prim has also decided to open its second Buongiorno unit in a shopping mall. The trattoria in the shopping mall comes with an open kitchen and the same menu and prices as the other Buongiorno restaurant in Victoriei Square.
The cost of opening such a restaurant is a minimum of EUR 500,000, says Dragos Petrescu, CEO of Trotter Prim, the company which runs the Buongiorno, City Grill and City Cafe chains. It is too early to tell how how the restaurant in Baneasa Shopping City will evolve, as it depends on how the mall will perform, according to Petrescu. He hopes the new eatery will reach yearly sales of EUR 700,000 net, which is less than the first Buongiorno restaurant posts per year.
He chose to expand in the mall because the Buongiorno brand targets the same type of clients as the mall itself. For the future, however, Petrescu plans to expand the company's restaurant chains in independent locations. "An independent location provides a better brand personality, compared to a mall-location," he explains.
The She She Chinese food restaurant is another one of the traditional restaurants in the shopping mall. The investment in the unit was of a few hundred thousand euros, and it would have been the same in another stand-alone city location, Vlad Vasilescu, owner of the restaurant, tells BR. He chose a much frequented area for his restaurant, and for the future he has eyed mall locations in Cluj, Timisoara and Constanta to open new restaurants. "Mall developers have contacted us and we now need to decide what locations to choose," says Vasilescu.
New, imported trend
The slow shift from traditional fast food courts in shopping mall to dining courts started in the mid 2000s in US shopping malls and has slowly crossed the ocean to Western Europe. Mall designers have allotted space to indoor and outdoor seating and reserved dedicated seating for restaurants serving fresh dishes, or exotic food such as sushi, Brazilian, Italian and Korean, among others. They have kept the fast food areas but separated the two.
Landlords are recognizing the value of investing in their food courts, and this is to be seen in newer projects, say US specialists. Some even go so far as to say that fast food, with a bunch of plastic chairs, is not going to cut it anymore. Food is increasingly a differentiation of shopping centers and a reason why people choose one over another, according to industry pundits.
"The idea of the food court we had for Baneasa Shopping City meant a distinction on two floors, which was a first separation between food and beverage concepts and targets on the market. We have kept the fast food on the ground floor and put the classic restaurants on the first floor," Bogdan Macarie, center manager of Baneasa Shopping City, tells BR. "In my opinion, classic restaurants are a must in a shopping mall because they cover a segment fast food fails to cover, and visitors get the complete offer," says Macarie.
In countries where the shopping mall concept is no longer new, classic restaurants have their own well established place. "They are usually located adjacent to the shopping area. There is a clear differentiation between the fast food and classic restaurant areas inside a shopping mall," says Marius Barbu, retail development director with Mivan Development. The developer will include classic restaurants in its soon-to-open Liberty Center shopping mall in Bucharest. "We promote classic restaurants in the tenant mix of our shopping malls because we believe they are relevant to creating the shopping mall experience," says Barbu. Mivan Development is also building the Tiago shopping mall chain across Romania.
"It is an architecture we have seen in other European shopping malls, mainly in the areas where, as in Romania, the food court is an important anchor to a mall. Out of the total number of visitors in a mall, there is definitely a great number who prefer classic food, served in a restaurant," says Macarie of Baneasa Shopping City. "We have been very selective," he adds, talking about the names which finally made it into the shopping mall.
Africa Israel's Cotroceni Park will also mix fast food and classic restaurants. "It is not an unusual decision, not even original," say AFI representatives. This alternative is essential in a shopping mall, according to the developer. It hasn't yet started the leasing for its food court units, but has several operators in mind.
Dining areas inside malls not on the menu for everyone
But not all markets can sustain the mix of fast food and full-service restaurants. Polus Center Cluj, developed by TriGranit, currently includes only fast food restaurants and coffee shops. "This is because in Cluj-Napoca, with no commercial center on the market, people have have tended to prefer places in the historical downtown of the city. They have put much effort into developing a quiet, comfortable and healthy lifestyle for their families and this includes eating with their families in the comfort of their homes or in a quiet downtown restaurant," Arpad Torok, chief leasing officer with TriGranit, tells BR.
"It was difficult to convince possible tenants that opening a restaurant in a commercial center and especially in a city where inhabitants are characterized by this lifestyle, could be a good deal since they didn't believe that the market was ready for them," says Torok.
But things are changing as customers change habits. The planned cinema in Polus Center Cluj will increase the number of entertainment facilities in the commercial center, a good opportunity for these kinds of tenants. After the opening of the cinema, classic restaurants will find room in PCC, adds Torok. For Polus Center Constanta, things have turned out different, and the targeted segment needs to have commercial centers that can offer them dining options – they would visit the commercial center even for dining as the main activity. But not any kind of commercial center could host classic restaurants. "It depends on the type of the project. City centers are more suited to such restaurants than malls, for example. It also depends on the target's habits and on the location of the commercial center," said Torok of TriGranit.
The fast food domination of the food courts of shopping malls is far from at an end, though. "Currently in Romania, fast food type and coffee houses are still dominating the commercial centers because their market is still not saturated. There are not enough fast food units opened yet, since the history of their presence on the market is not too long. Of course, this will change in the coming years and fast food outlets will be a constant presence everywhere in Romania, according to Arpad Torok.
By Corina Saceanu