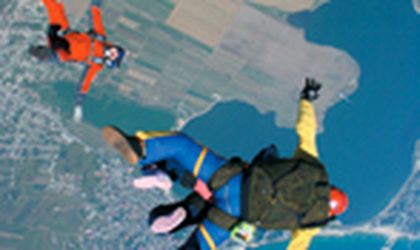 The Boeru brothers started skydiving in 2002 at the Romanian Airclub. At the time, Bogdan was 19 and Dragos 17. "After two years we realized we wanted to get more out of this and started studying how things work in other countries," says Bogdan, mentioning France, Bulgaria, Hungary, Italy, Spain and the Czech Republic. "Two years after these experiences, we decided to start a business of our own – turning parachuting into a commercial activity," he explains.
Currently, skydiving can be learned and practiced in Romania at the state-owned Romanian Airclub through its 16 centers in the country. There are also two private clubs, neither in Bucharest – Regional Air Services at Tuzla Airport and Total Air (renamed U-Fly) at Strejnic airdrome. So this would be the first private club in the Bucharest area. "We want to set up a parachuting business with our own infrastructure including a runway for the aircraft take-off and landing."
Some of the instructors will be from Romania, others from abroad. "For a time we may bring several instructors from abroad to train local ones," he says.
There will be two sides to the parachuting activity. One will be for clients who want to jump with a parachute once. The other will be training, for those who want to actually practice skydiving as a sport. In the first scenario, only ten minutes of training is necessary since clients jump with the instructor and a parachute sized for two people, in what is called tandem jumping. The brothers expect greater profit to derive from this activity. "The customer comes, in ten minutes gets the instructions, spends another ten minutes on the plane and ten minutes until reaching the ground," says Bogdan Boeru. The brothers expect initially to have over 30 clients for tandem jumps per weekend, and around 10 trainees every month.
For trainees, there are two types of courses they can follow: Static Line and Assistant Free Fall (AFF in skydivers' jargon). The difference between the two is that for the former one jumps all alone from the beginning. "You have a parachute on your back and you jump from the plane, the parachute is opened automatically with the help of an attached cable. The equipment contains a main and a reserve parachute," says Boeru. Assistant Free Fall starts with several jumps in tandem. "In this way, the trainee gets used to the free fall sensation and the air currents and afterwards the next jump is done from 4,000 meters with two instructors who jump tied to you," says Boeru.
Theoretical training lasts for three days. Trainees must learn legislations and safety rules, then take a test and after passing it, start the jumps. "By law, after 25 jumps you can get the license," says Boeru. The minimum legal age for skydiving is 16 years old with the agreement of the parents or legal guardian. After turning 18, they can do so without parental consent. Young people are most prone to catch the bug but there are also people aged 45-50 who go skydiving. Business people are a good target category for skydiving. "Generally a business person is used to taking risks in what they do and in skydiving it is the same."
Getting the business off the ground
"You know how it is: the best businesses are done with other people's money," says Boeru. So, the brothers will only come up with part of the money while the rest of the funds necessary for investment will be met from a bank loan.
To start a business such as this, the priority is to find a site that is located near an authorized airdrome. Next you need an aircraft and a pilot to operate it. Thirdly, recruiting the instructors. "We will start with two instructors for tandem jumps and two instructors for school training," says Boeru.
After that, one needs to find an administrative building. "We have already designed the entire venue and we know how everything is going to look," he says. Another priority is also a hangar to deposit the plane and an area reserved for folding the parachutes.
However, the plan is to opt for an all-inclusive business model, which means that apart from the area reserved for parachuting, the venue will also have build-in food, accommodation and sports areas. "We already have acquired a land plot of 15,000 sqm. We will build several small houses, a pool in between, a tennis court and a soccer field, a camping area, a parking space for cars and a food area," says Boeru.
The overall investment the brothers forecasted was EUR 1.5 million, but investments will be made gradually. "In the first stage, we will not acquire the aircraft but rent it. We will put EUR 100,000 into infrastructure and approximately EUR 50,000-EUR 70,000 in the parachuting equipment," says Bogdan Boeru. While nothing is yet written in black and white on paper, the price for a parachute jump in tandem will most likely surpass EUR 150 while for a full training course the customer will pay approximately EUR 1,400.
"What we offer is first of all better organization. The aircraft we will have will be like no other in Romania, the personnel will be highly qualified. We will also offer auxiliary services such as food and accommodation," says Boeru. From a mental calculation after a careful study of the way things are done at EmpuriaBrava in Spain, the largest drop zone in Europe, Boeru says that "if in Romania only 10 parachute jumps in tandem take place over a weekend, at Emporia Brava 170 do. If you multiply it by EUR 200, in Romania you earn EUR 2,000, while in Spain it is EUR 34,000."
The brothers expect this business model to catch on in Romania even more so since it was tested on other similar markets such as the Czech Republic. "In the Czech Republic the evolution has been faster even though the two countries started from similar positions. As a rule, what has caught on as a business outside the borders will do so in Romania as well." In the Czech Republic organization and time management are effective."You go there at 9am and it is like at a train station. On the board are posted the hours when the plane takes off (generally every twenty minutes). Depending on how much money you have, you can choose when to jump," he says.
Before the start of the business, the brothers decided to test the market. "In September 25-28 we will organize an event at Clinceni which is meant to shake things up, followed by another in spring. It will be ten times bigger than any parachuting event in the country," says Bogdan Boeru.
By Otilia Haraga