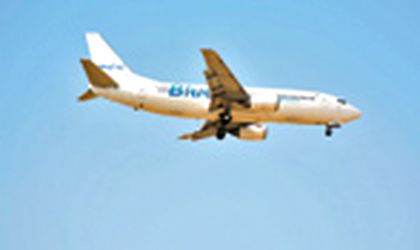 "The money for holidays at the end of this year was probably set aside some time earlier, so the effect of the crisis on trips over this holiday period is limited. However, we expect demand to fall at the beginning of next year because of the crisis," Marius Negre, business development manager of travel firm Vola.ro, tells Business Review. He explains that there has been a slight decrease on the tourism market in the last quarter of this year, but Vola.ro, which does most of its business online, has not been as greatly affected. "On the contrary, many more tourists are trying to reduce costs and find alternatives to traditional agencies, which is why they end up accessing our site," says Negre.
Vola.ro, a site for plane ticket and hotel reservations, was launched in April 2007. It will post, only for December, a turnover of EUR 500,000, of which 50 percent comes from services offered during the holidays, Negre says. "The hike from last year amounts to 500 percent but this is also because the Vola.ro service was launched in April last year," Negre explains.
The most popular holidays sold on the site are in line with general trends. The best-selling destinations are Austria, France, Spain, Italy, the Czech Republic and even Hungary. "Our customers generally choose hotels on the three-four star segment with a good price/quality ratio. Less than five percent of customers choose five-star destinations, many of them because prices offered by our agency for online reservations are much lower than through traditional agencies," says Negre.
The first quarter of the year is "traditionally a less profitable one" but the effects of the crisis will also be partially felt. However, Negre thinks few clients will downgrade from the standards they have gotten used to turn a blind eye to a drop in the quality of services. "Most of them will probably review their plans or try to find alternatives which are cheaper but of the same quality." He says many airlines have already launched special promotions and will probably continue their cost-cutting campaigns next year. "There are airlines that have cut their prices by as much as EUR 200 for a Bucharest-New York ticket for instance," says Negre.
As for corporate travel, which plays an important part in airlines' revenues, representatives of low-cost operator easyJet say the company is winning market share with business travelers as companies change their travel policies and businesses demand value for money. "Most already require their staff to cut back on wasteful business-class tickets and instead travel with airlines such as easyJet," say officials.
"There is a tough winter ahead for airlines. Across Europe, aviation could shrink by as much as 10 percent this winter due to the economic crisis and high oil prices. This will affect all markets," say company reps. This could prove to be an advantage for low-cost carriers such as easyJet. "In 2008, our passenger numbers have grown by 17 percent as passengers are keen to get the best value for their money in difficult times. We have a modern, fuel-efficient fleet and nearly GBP 1 billion (around EUR 1.12 billion) of cash in the bank. In 2008, we posted profits of GBP 123 million," say company officials.
Negre also believes that most customers will take a wait-and-see attitude to their future priorities. "Personally, I believe few companies will give up important projects and clients right now. Of course, modern means of communication are extremely useful but one should not underestimate the power of personal impact. In the current context, I expect the contrary – the sales force and resources dedicated to selling products and services will increase to enrich the portfolio of clients," he says.
"Airline passenger transport registered an increase in the first half of the year compared to the same period last year. Due to the international situation, we estimate a slowdown in the increase rate forecasted at the beginning of the year," say Blue Air representatives.
"The word that would best describe the airline industry in Romania this year would be 'difficult'. The principal issue that has put a brake on the engines of airlines everywhere in the world is the explosion in the price of a barrel of oil. We estimate that in the following three months, prices will settle and the airline industry will pick up its foreseen natural track," said the same source.
Company reps say there has been no drop in the number of tickets sold this year; on the contrary – compared to last year, the number of tickets sold in 2008 registered a 30 percent increase.
This year, Romanians flying with Blue Air have opted for destinations such as Italy, France, Belgium, Cyprus and Spain.
During the winter holidays, low-cost carrier Blue Air has increased its number of passengers by 30 percent. An important part of the company's revenue, aside from tourism, comes from "ethnic traffic," meaning Romanians who have settled or work outside the country. This year has brought a 15 percent increase in the number of tickets sold by Blue Air for the winter holiday period compared to previous years.
Tour operator Flynova, the local division of the Novatours group, sold 120 package holidays, which total over EUR 80,000, according to a local newswire. The buyers are Romanians who will spend their New Year's Eve in Austria or in the Egyptian resorts Hurghada and Sharm El Sheikh.
Flynova's tickets for New Year's Eve trips to all destinations are almost fully booked. Apart from holidays in Hurghada and Sharm El Sheikh in Egypt, the tour operator is offering accommodation in Austria. Hurghada is popular both with tourists who want to spend New Year's Eve in Egypt and those who travel during the Christmas period. "Shortly after launching the winter offer, Flynova sold out holidays in this renowned Egyptian resort for both periods of the winter holidays," said Raimondas Useckas, executive manager in Flynova.
He added: "Romanian tourists continue to prefer high quality services. There will be two peaks in demand during the winter season – the winter holidays and the beginning of February when we are also expecting to have an influx of customers due to the school vacation. More and more Romanians are choosing to spend their holidays abroad with their children."
Flynova customers have opted mainly for five-star hotels and all-inclusive offers. They have also chosen various pastime and relaxation activities such as diving in the Red Sea, snorkeling and taking trips to historic cities such as Cairo and Luxor and countries such as Israel.
From the time of its launch on the Romanian market in March to the middle of this year, Flynova posted a turnover of EUR 2.41 million and served 4,400 customers. The firm was launched in Romania at the end of March, when it anticipated a turnover of EUR 10 million for 2008. However, in September the company brought down its turnover estimations to EUR 4 million for the current year.
By Otilia Haraga