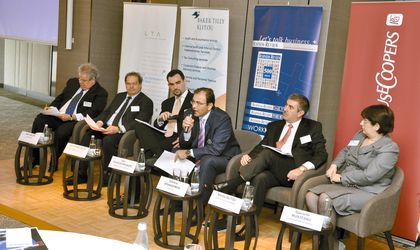 With the amount of Greek investments in Romania doubling last year compared to 2008 and more than 200 new Greek firms registered in 2009, the country was the fifth largest investor in the Romanian economy.
Greek companies with local operations who attended the Greek Business Forum organized by Business Review as part of a series of country focus events, cited the corruption, excessive bureaucracy and poor transport infrastructure as continuing to be Romania's weak points, but agreed that the local economy still offers business opportunities.
Marios Klitou, CEO of Baker Tilly Klitou & Partners, said 2009 was a hard year for everyone and in particular for small investors. As for what the future holds, he added that there are signs of cautious improvements.
Present at the event, Ioannis Paschalis, minister counselor for economic and commercial affaires with the Embassy of Greece to Romania, reiterated his belief that the crisis Greece is currently facing poses no threat to the Romanian economy and the Romanian banking system in particular.
He added that Greek companies continue to regard Romania as an attractive destination for future investments especially in the agriculture sector and the food industry.Jean Valvis, CEO and general manager of Valvis Holding, expressed his intention to continue his investments in agriculture and renewable energies in spite of the current economic crisis and the lack of support from the Romanian authorities.
He added that although Romania has a great potential for harvesting alternative energy sources such as wind or solar power, the lack of a coherent legal framework makes it difficult.
Valvis described the current local business environment as having fewer opportunities, being slowed down by bureaucracy and affected by corruption to a greater extent than before.
Regarding real estate Ilias Papageorgiadis, CEO at MORE Real Estate Services and moderator of the event, said that the market had hit rock bottom and prices are expected to stabilize. Speranta Munteanu, senior director business recovery services leader South Eastern-Europe at PricewaterhouseCoopers emphasized however that future comparisons with market evolutions before the crisis are not relevant.
The event, which gathered about 80 company officials was organized in partnership with Lucu, Tsignopoulou & Associates (LTA) and Baker Tilly Klitou and sponsored by Marsh and PricewaterhouseCoopers. More information can be found at www.business-review.ro.