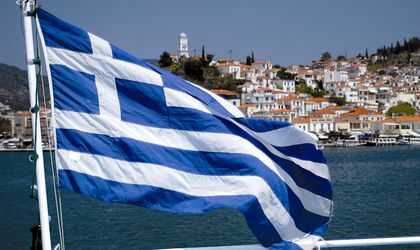 Greek investors continue to find Romania to their liking despite the current economic crisis, with Greek investments in Romania exceeding EUR 4 billion so far. Although 2009 was a tough year for the world economy and perhaps harder still for the Greek economy in particular, over 200 new Greek companies were registered in Romania, according to Ioannis Paschalis, minister counselor for economic and commercial affairs with the Embassy of Greece in Romania.
Simona Bazavan
The amount of Greek investments in Romania doubled in 2009 compared to 2008, in the context of Greek banking investments in increasing capital and the purchase of Zapp by Cosmote. So the banking system and telecommunications were once more the industries that led the way for the Greek presence in Romania.
Greek businesspeople are now turning their attention to new industries such as the agro-alimentary sector as well as renewable energy.
Jean Valvis, a businessman with Swiss and Greek citizenship and creator of the Dorna and LaDorna brands, says he has everything ready to start a renewable energy project.
"Energy crop cultivation is underway on over 8,000 ha in the area of Calarasi, with an investment of EUR 4 million from a total of EUR 80 million. We also need the support of Romanian authorities to speed up this project," he said.
Valvis has also invested in the field of bio-energy, setting the Dorna Agri company.
In spite of traditional economic setbacks such as excessive bureaucracy, ever-changing legislation and the lack of good infrastructure, Romania continues to attract Greek companies, making Greece its fourth largest investor.
"I believe the basic reason for the Greek business familiarity with Romania, apart from our historic ties and the friendship between our peoples, is the geographical proximity of the two countries and the size of Romania's potential," Georgios Poukamissas, Ambassador of Greece to Romania, told Business Review.
Greek banks handle local financing business
The Romanian banking system attracted a considerable amount of Greek investments in 2009, over EUR 300 million, but this took the form of capital increases by Greek banks active in Romania.
Piraeus Bank has been present locally since 2000 and now operates a network of 186 branches nationwide. In recent years the bank has focused on the expansion of the national network, launching new products and adopting a personalized, flexible and transparent approach in its relationship with clients. The bank invested EUR 20 million in its new headquarters on Nicolae Titulescu Boulevard in Bucharest.
The 15-storey building covers 14,300 sqm, all occupied by the lender. Piraeus Bank made a EUR 43 million profit in Romania in 2008, almost double the figure from the previous year. But the mother group's post-tax profit fell to EUR 315 million, from EUR 503 million the previous year, even lower than its EUR 337 million profit in 2006. The figure was impacted by the planned EUR 173 million provisions, to which an additional EUR 215 million of provisions was added in the last quarter of 2008.
The Alpha Bank Group came to Romania in 1993 along with the European Bank for Reconstruction and Development (EBRD) and a limited number of Greek entrepreneurs, and established Banca Bucuresti SA, which was renamed Alpha Bank Romania in 2000.
The bank posted EUR 45.8 million of its total EUR 512 million profit in Romania in 2008. The lender's profit was 20.8 percent up from 2007, mainly due to its provisioning of EUR 33.2 million. This year Alpha Bank has contracted a EUR 50 million loan from the European Bank for Investments, for financing small and medium enterprises. The SME sector represents a strategic priority for Alpha Bank Romania. The lender has implemented a special approach for this segment through which it has personalized and extended its products and services range, dedicated to SMEs. "Through the new EBI-contracted loan Alpha Bank will continue its strategy of sustaining the Romanian enterprise sector," said Sergiu Oprescu, executive president of Alpha Bank Romania.
Bancpost, a member of Eurobank EFG Group, was set up in 1991 and now has more than 3,700 employees and an extended territorial network of over 285 branches. The bank has recently joined the IFC Global Trade Finance Program as an issuing bank.
The IFC Global Trade Finance Program supports trade with emerging markets worldwide by providing risk mitigation.
"Joining the IFC's Global Trade Finance Program will help us provide trade solutions to our clients and increase their access to new markets around the world," said Mihai Bogza, CEO of Bancpost.
Greek players make moves in telecom
Three major Greek investors are active on the Romanian telecommunication market: OTE present locally with landline operator Romtelecom and mobile telephony operator Cosmote, and Germanos Group.
OTE Group has been present in Romania since 1998 when Romtelecom registered revenues of ROL 7,238 billion, an operating profit of ROL 2484.2 billion and had 48,441 employees. "Romtelecom, together with Cosmote Romania, as part of OTE Group, has invested over EUR 2 billion in telecommunications infrastructure in the last 10 years. This is the largest private investment in the infrastructure of Romania," Romtelecom representatives told Business Review.
Last year the operator posted revenues of EUR 807.7 million.
'The revenue decrease rate was contained at the level of the Romanian economy's decline, at about 7 percent, despite the heavy pressures to which the company was subjected. With regard to profitability, however, and based on a strict cost control, Romtelecom recorded only a very slight decrease of approximately 1.2 percent, its EBITDA rate reaching 32.3 percent at the end of 2009. This was the result of the strategy to offset the drop in traditional telephony revenues through market share in new growth areas, such as broadband and satellite TV," said company representatives.
In the last few years the company has focused on the growth of its non-traditional businesses such as broadband internet – fixed and mobile, data and digital television.
For this year, Romtelecom has announced a strategy centered on cost optimization offers, as well as on personalized offers.
Cosmote Romania, a member of Cosmote Group, launched commercial operations in Romania in 2005. Last year Cosmote Group took over Telemobil SA (Zapp). According to officials from the two companies, the firm paid EUR 207 million.
Cosmote took over 100 percent of the shares of Telemobil SA which amounted to EUR 61 million (a sum equal to Zapp's revenues in 2008), as well as Zapp's debts and obligations, estimated at approximately EUR 146 million, of which the majority represented the costs of expanding the 3G and CDMA networks.
The company has invested over EUR 680 million in the last five years, and managed to increase its customers from 50,000 to almost seven million, according to company officials. The total customer base reached 6.9 million at the end of 2009, up by over 17 percent on a yearly basis, with approximately 19 percent postpaid.
"Total revenues in 2009 reached EUR 423 million, posting a 36.1 percent growth y-o-y. Service revenues increased by 6.4 percent compared to an overall market drop of approximately 20 percent (excluding Cosmote). At the same time EBITDA stood at EUR 66.1 million, a three-fold increase compared to EUR 22.5 million in 2008," said company officials.
The operator has also announced that for 2010 it plans to continue to further expand its products and services portfolio, mostly by launching and expanding mobile broadband services.
Germanos Telecom Romania, Romania's largest telecom retailer, has taken over Zapp's retail business.
The company has been present on the Romanian market since 1996 and now operates approximately 250 stores nationwide.
For 2009, the firm reported sales increases for products such as GPS systems, Bluetooth kits and digital photo cameras, said Alexandru Munteanu, sales operations manager at Germanos Telecom Romania.
Retailers expand their networks
Elmec Romania was established in 1999 as a subsidiary of Elmec Sports, one of the leading commercial companies in Greece, and started its operations here as a Nike product distributor.
Last year the company extended the distribution contract it had signed with Nike European Operations Netherlands for another two years, until 2011. Elmec has been selling Nike products in Romania for over 10 years and plans to further invest in expanding the local network of shops.
Currently, the company has 23 Nike stores, three Nike outlet stores and two Nike shop-in-shops nationwide.
In 2009 Elmec also extended in Constanta by opening three fashion and sportswear stores and a Follie Follie shop in City Park Constanta.
In 2007 the company took over the Follie Follie network, and since then it has extended it to four stores.
Elmec has also recently added four more brands to its portfolio, Boss Orange, Scotch & Soda, Fornarina and 55 DSL.
The Sprider Stores retail network entered the Romanian market in 2007 with a first store in Bucharest, in City Mall.
Three years later the company is present in Bucharest, Cluj, Timisoara, Buzau, Pitesti, Bacau, Iasi, Suceava, Oradea and Targu Mures with stores covering a total surface area of 20,000 sqm and a total investment of over EUR 15 million. Sprider has recently opened its fourth store in Bucharest, a 1,000-sqm unit in Sun Plaza, following an investment of approximately EUR 1 million. The name of the Greek retailer is strongly linked with the South-Eastern European market, operating 115 stores in Greece, Romania, Poland, Serbia, Cyprus, Bulgaria and FYR Macedonia.
For 2009, Sprider Stores Group reported a 6.4 percent increase of sales at regional level and a EUR 163.8 million profit.
Greeks hungry for more business
In the food sector, the Greek toast bread producer Karamolegos Bakery Industry, leader on the toast market in Greece, invested last year EUR 10 million in the opening of a bread factory in Popesti Leordeni near Bucharest.
Jean Valvis, former owner of Dorna dairy producer and president of Valvis Holding, plans to open a mineral water factory in Suceava.
The factory, which will be opened in summer this year, will require a EUR 12.5 million investment which will be made through Carpathian Springs.
"For Carpathian Springs, we built up the first Romanian international premium brand, Aqua Carpatica, for the purest naturally sparkling natural mineral water in the world," the businessman told Business Review.
The production of the future factory will cater to both local and external demand.
The new mineral water, Aqua Carpatica, will be launched on the market in summer this year.