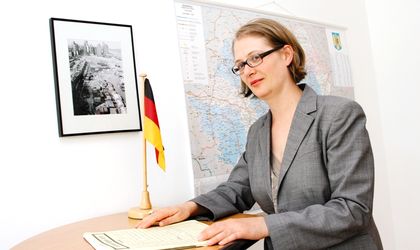 Many German investors are taking a fresh look at  Romania with a clear focus on industries such as automotive and IT, Dr. Sonja Kreibich, economic and commercial counselor with the German Embassy to Bucharest, told BR.
Simona Bazavan
Do the reasons that made German companies come and invest in Romania a few years ago still apply or have they changed?
Before the crisis, German investors came to Romania for a few main reasons: relatively low production costs, good language skills and its geographical location which made it an attractive place for production. The large size of the country and the high pent-up demand of its people promised a domestic market with high potential for growth.
As everywhere, the economic crisis significantly slowed down investment. Now that the economic situation seems to be improving, many are taking a fresh look Romania as a place to invest. What you can see is a mixed picture. The situation is also very different, depending on which sector you are talking about.
Some of the major German investors are currently extending their presence in the country. They have also benefited from the development of production clusters in their respective sectors. The downside to this is an increasing scarcity of well-trained workers. On the medium-term, this presents a real danger to Romania's position as a place for production. Other investors have recently withdrawn from the Romanian market after a re-assessment of their business plans or because of doubts about the general business climate. We have also noticed that the enthusiasm that many previously had as regards the development of the Romanian domestic market has waned, as expectations of growth have not materialized.
What can you tell us about bilateral trade in 2010 as compared to 2009?
Bilateral trade increased in 2010 by about 18 percent from around EUR 12 billion to EUR 14 billion. Romanian exports to Germany rose significantly by about 26 percent in 2010 after an increase of 8 percent in 2009. One reason for this development is the prospering German economy and the increase in domestic demand in Germany. This is obviously an advantage for Romania as well since this demand fuels our bilateral trade relations.
What are currently the greatest impediments to doing business in Romania? Has the situation improved or worsened in the past year?
A crucial role in a company's decision whether to invest in a certain country is its business climate. Unfortunately, the perception of the business climate in Romania continues to be not too good: the judicial system is often inefficient and unpredictable; public procurement procedures tend to be not always as transparent and structured as they could be; the administration is not very efficient due to corruption and prevailing legal problems. Equally, frequent and ill prepared legal changes have a negative effect upon the general investment climate. In these areas there is still potential for substantial improvements.
How do you see future German investment projects in Romania?
We will see more investment in the automotive and IT industries. Bosch and Continental, two major players in the German automotive industry, recently announced substantial new investments. Furthermore, Romania has great potential in the field of renewable energies and environmental engineering, such as waste water management. The German-Romanian Chamber of Commerce is fostering collaboration and new investment projects in this area. Last year the internet platform Econet Romania was launched and recently a conference on this matter was organized in the Reichstag in Berlin.
Food production and packaging are two sectors where Romania is currently not exploiting its potential to the fullest. Modern production facilities would also reduce Romania's dependency on imports of food products.
And finally, there is infrastructure. We hope that Romania will soon implement its ambitious plans in this area, since better infrastructure is key to Romania's ability to attract future investments. German companies stand ready to contribute their expertise. Just to give you some examples of current activities: Thyssen Krupp was involved in the construction and servicing of the elevators and escalators in the new terminal of the Henri Coanda International airport. The German company WTE Wassertechnik is planning and building sewage plants in Gherla and Huedin (near Cluj). The German construction company Max Bögl has just started to build a new Metro station on the future line number 5 in Bucharest (Valea Ialomitei) and Siemens is involved with RATB in the reorganization of the Bucharest tram lines.