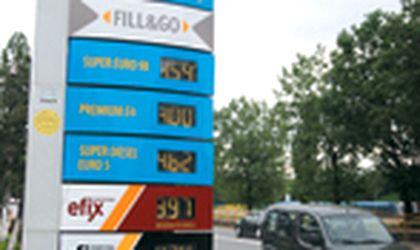 "The time when we could count on cheap oil… is clearly ending," said David O'Reilly, chairman of Chevron, at the CERA Energy Conference in February 2005.
His statement proved to be true. This year alone fuel prices have gone through several price increases in a row, both on the international market and in Romania.
Another such increase was announced last week, when Petrom representatives confirmed they had raised the gas prices. The price of ECO Premium 95 gas is currently 3.87 RON, from 3.75 RON per liter, while for diesel, customers have to pay 4.24 RON per liter, compared with 4.12 RON a few days ago. The price of diesel at OMV is now 4.16 RON per liter.
Diesel oil counts more fans
Surprisingly, the price of diesel reached a much higher level than the price of gasoline. Zsolt Szalay, CEO of MOL Romania, says that although the price of diesel fuel has grown constantly in Romania, this type of fuel has started to win "more and more fans."
Key car sales figures in the automotive industry support this scenario. According to the Automotive Manufacturers and Importers Association (APIA), in January this year sales of imported diesel cars reached 6,849 units compared to just 4,634 cars in January 2007. For February, statistics show a sales volume of imported diesel cars of 7,187 units, representing a rise of 9.6 percent year on year.
Oil producers expect consistent increases in sales volumes per gas station despite the constant hiking of fuel prices. "The average sales per each gas station registered a steady boost of 7.8 percent in 2007 compared to the previous year. For this year we estimate an advance of 7 percent of the average sales per station," Szalay told Business Review.
Petrom representatives have similar expectations. "We estimate that the market will continue to rise for at least three years, and expect it to reach maturity only after a period when the market increases are insignificant," Petrom representatives told BR.
Oil price sets near $124
Oil producers explain that there are two major reasons for the recent fluctuations in price. "We make price changes each time the market imposes such a change, due to increases in international prices for oil, or to the raising of oil taxes on the local market. We cannot forecast oil prices at gas stations because
the market is very volatile," said Szalay.
International statistics show that in the last decade the oil price has risen relatively constantly, but a consistent boost was reported from the second half of last year. The peak was registered last week when oil hit a record high near $124. The light sweet crude delivered in June this year fell 27 cents to $123.26 a barrel, from a record of $123.93 reached earlier. London Brent crude dropped 20 cents to $122.12 a barrel.
The situation raises serious questions and is becoming a source of concern for economy ministries around the world.
These concerns were shared towards the end of last year by Dinu Patriciu, CEO and president of Rompetrol Group. "One year ago we were talking about the price of oil surpassing $100 per barrel. Today, some investment banks predict that the price will vary between $100 and 150 per barrel in the next six to twelve months. It is an evolution triggered by the imbalance between stocks and consumption," said Patriciu.
Excises, under the EU eye
There are wide regional variations in product prices, and they are not only triggered by differences in crude prices, but by varying levels of taxation as well. These can range from relatively modest taxes in the USA and Canada, to very high levels in many European countries. In the UK, for instance, the government receives around 1.7 times more from taxation than OPEC gets from the sale of its oil.
Between 2002 and 2006, the G7 nations Canada, France, Germany, Italy, Japan, the UK and the USA made a total of $2,31 billion from oil taxation, compared with $2,045 billion in revenues for the OPEC members over the same period. While the G7 revenues mostly translates into profit, it is not the case for the OPEC nations, which must meet the cost of finding, producing and transporting that oil from their income.
The real burden on the consumer seems to be taxation in the consuming countries. If gasoline were not so heavily taxed in countries such as France, Germany, Italy, Japan and the UK, it would cost only a fraction of the current price.
A higher excise level is the reason for the consistent increases in the diesel oil prices in the last couple of months in Romania. "The price increase on diesel oil has been triggered by the raise of the diesel oil taxes, which are much higher this year compared to 2007," said Szalay.
This year, diesel excises in Romania are EUR 274 per 1,000 liters and EUR 327 per 1,000 liters for gasoline without lead. Until 2010, the excise level for diesel oil has to reach EUR 293 per 1,000 liters.
The European Commission plans to increase the minimum level of excises for diesel oil in order to reach those for lead gasoline. According to the EC, the excises are to rise from the present figure of EUR 302 per 1,000 liters to EUR 359 per 1,000 liters until 2015.
Romania, as well as Poland, Latvia, Lithuania and Bulgaria
have received a one-year grace period in order to implement these changes.
Chains of filling stations expand countrywide
Oil producers are planning to further expand their distribution networks. MOL Romania has recently opened its first gas station this year, in the central county of Mures, following a EUR 1.2 million investment. The company's strategy is to open at least ten more units by the end of the year. "We will maintain our strategy to go to locations where we are not yet present. MOL Romania has assigned EUR 20 million to expand the gas station network countrywide," said Szalay.
OMV officials told BR that the company plans to build greenfield gas stations, the Austrian oil producer being one of the companies taking part in the bid for gas stations along the A2 highway.
Petrom has expansion plans as well. "We intend to build 75 new distribution stations and the investment budget for this project reaches approximately EUR 100 million," company representatives told Business Review. They added: "We are trying to cover all areas in the country and we focus on areas with intense traffic and development potential both on the fuel market and auxiliary services."
At the end of March 2008, Petrom managed 810 gas stations, of which 553 are in Romania and 257 in the Republic of Moldova, Bulgaria and Serbia.
By Dana Ciuraru