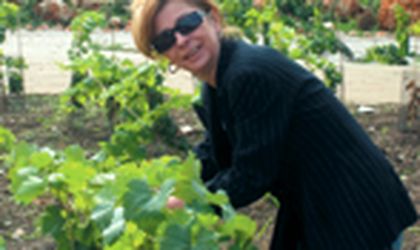 "I come from an old French champagne-producing family," – this was Anne Marie Rosenberg's qualification for the Clos des Colombes vineyard project, started at the Black Sea resort Olimp. She bought the land for the vineyard seven years ago. "At the time it looked more like a ruins site with numerous buildings in a catastrophic state. The price was relatively fair for its location, but still quite high at that time," Rosenberg told Business Review. The Clos des Colombes vineyard now consists of 50 hectares and is home to a wine cellar, a restaurant, a building for workers, another building that is to be refurbished and reinvented as a rural pension and the actual vineyard.
A mature outlook
Rosenberg drew inspiration for the vineyard project from her master's degree in wine and spirit marketing at the Organisation International de la Vigne et du Vin. "Through these studies I traveled to more than 12 different countries where I met various wine professionals. This gave me the idea that the demand for luxury wine tourism is very strong – especially in New World countries," she said. Rosenberg cites examples of where such a business model has been a hit abroad, leading her to believe it could also catch on in Romania. "Let's take for instance California, where wealthy people invest in vineyards by creating the infrastructure as well as an excellent marketing vehicle around it: restaurants, retail, showrooms, concerts and participation in charity events. I experienced the same in Australia and more recently in South Africa." And Romania could follow this trend. "Many travel agencies are becoming specialists in wine tourism and a wine tourism day was held in Europe, on May 9 this year. We're also starting to see beauty products based on wine, and wine spas."
The bottle to invest
Domains Clos des Colombes now produces three wines that are all dry: two whites – a Sauvignon Blanc and a blend of Feteasca Alba, Feteasca Regala and Riesling, called Terra Alba – and one red – Terra Rossa. The Sauvignon Blanc and the Terra Rossa are matured in authentic French oak tree barrels for one and half years.
Rosenberg says that establishing the vineyard took a great deal of effort and that every euro invested has a story. "I have always known that I would do this project. Through the years, I hardly met anyone who warmed to the idea. Financiers dismissed my project as risky, although I could show that such businesses existed in other counties," she said. According to the viticulturist, the value of the investment is around EUR 1 million. Two years ago, BRD agreed to finance one of the last steps of the project. "I held on, lost a lot of time, but was able to succeed. The money is destined for the renovation of one of the buildings into a small luxury hotel or bed & breakfast," she added.
Here's to the future
Two years ago, in the first year of actual production, Clos des Colombes turned out about 12,000 bottles. "Last year's production will be more substantial, but we do not wish to have a mega production. The maximum should be around 18,000 bottles when all of our young plantations can produce grapes," she said. At the moment the wines are sold at the on-site restaurant as well as in some other eateries in Bucharest. "In a few weeks' time, the wine will also be available in a very famous supermarket chain in Romania. In the long run, I also hope to sell a few bottles of the Domains Clos des Colombes in France," said Rosenberg.
Her plans do not end there. "In the near future I will be concentrating on the core activities of the business. However, I miss the side of the job with wine-tasting classes and teaching about wines of the world, especially French ones. And of course I would like to be able to renovate our building into a small luxury hotel as soon as possible," said the Clos des Colombes owner. She added: "This project represents everything that I have learned through my life. It is neither a hobby nor a rash move, but a well thought through business undertaking."
By Dana Ciuraru