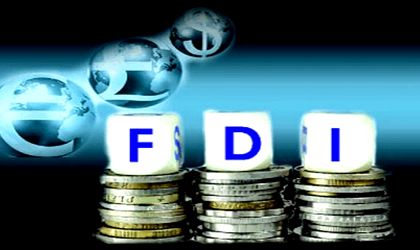 The value of the foreign direct investment (FDI) in Romania in 2018 was revised upwards by the central bank up to EUR 5.27 billion, from EUR 4.94 billion.
The National Bank of Romania (BNR), conducted the annual statistical survey regarding the foreign direct investment (FDI) in cooperation with the National Institute of Statistics (INS).
The major goal of the statistical survey was to determine the FDI stock as of December 31, 2018, and the FDI flows during the 2018 financial year into the resident direct investment enterprises.
"FDI net flow in 2018 stood at EUR 5 266 million, of which: EUR 5.546 billion enterprises' equity (equity stakes worth EUR 2.973 billion, plus reinvestment of earnings worth EUR 2573 million); EUR -280 million debt transactions (lending to direct investors exceeded borrowing from direct investors)," the central bank said in a press release.
In February, the central bank announced a slightly lower value of FDI for 2018, of EUR 4.94 billion.
FDI stock as at 31 December 2018 amounted to EUR 81.1 billion, of which EUR 57.5 billion equity positions, including reinvestment of earnings, and EUR 23.6 million debt positions.
Net earnings of the foreign investors from equity participation were EUR 6.12 billion last year, representing the net profit of FDI enterprise of EUR 8.93 billion, less the loss of EUR 2.81 billion of FDI enterprises that incurred losses.
Net income from interest, computed by subtracting the interest received by foreign direct investors on loans granted to their enterprises in Romania from the interest paid by foreign direct investors for the loans received from their enterprises in Romania – either directly or via fellow companies, stood at EUR 672 million.
The FDI Survey was conducted in compliance with the methodological requirements of the International Monetary Fund Balance of Payments and International Investment Position Manual, Sixth Edition (BPM6), according to BNR.
On October 29-31, Business Review will proudly host the 6th edition of the Foreign Investors Summit, the event that brings together foreign business communities, state authorities and diplomats. Join us, professionals across the main industries, an exceptional line-up of speakers and representatives of major FDIs in our country, for a discussion on leadership and ways to build a brighter and more sustainable future for Romania.