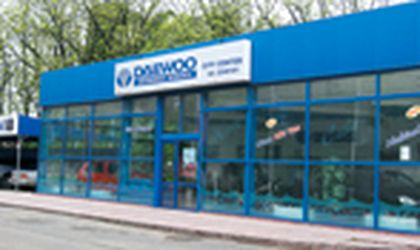 "We are currently selling Daewoo-branded cars that we have in the showroom. We are interested to work with Ford Europe, to sell all their brands, including vans," says Florin Mihu, executive manger at Mihoc, a Daewoo dealer from Bacau. He said that up until now Ford representatives have not contacted him in order to discuss the future strategy of the dealer network.
Ford has said that the company plans to continue to co-operate with the existing Daewoo dealers but only if they are willing to make solid investments to reach Ford standards.
"We believe that a primary objective for the existing Daewoo dealers is to continue their activities linked to providing parts and service back-up to the Daewoo customer base in Romania. In our plans to expand our Ford network we will of course consider all suitable candidates from automotive dealers provided they meet Ford's franchise standards. We are willing to make all the necessary investments to be able to meet growing customer demand and expectations," said Nadia Crisan, managing director of McGuireWoods Romania, Ford's consultant.
The dealers' response
Some of the dealers have already anticipated Ford's requirements and have said that they will commit to the necessary investments. "We expect a co-operation with the American company, Ford. We are bringing a 6,000-sqm plot of land that we own. Here we plan to build a showroom and a service center. We estimate the investment will reach EUR 2.5 million," said Petre Lupu, GM at IATSA Brasov, a Daewoo dealer. In his turn, Mihu said that his company already has two showrooms in Bacau and Onesti and is planning to open a service center in Onesti.
Some dealers say they expect discussions with Ford to start in three or four months at the most. Costel Meleanca of DWAR Bucharest, another Daewoo dealer, says he might consider selling other car brands in the future, but has not yet made a decision. Other car dealers who are known for selling Daewoo cars, are now diversifying their brands. For instance, Radacini sells Chevrolets, Hummers and Cadillacs.
The trio: Ford – Romcar – dealers
After having committed to making investments of EUR 675 million to modernize and increase the number of employees, Ford has also announced significant plans for the distribution network. "As we expand our business in Romania we will need more sales and service centers to be closer to our ever-growing customer base. Currently there are 30 Ford authorized dealers in Romania and we plan to more than double the number of our dealers within the next five years," said Crisan.
While the situation is simpler for Daewoo dealers, Romcar, the Ford importer in Romania, says it will continue to remain a separate entity from the producer and its own dealers will keep doing business through Romcar.
"The relations between Ford Romcar and the dealers will not change with the arrival of Ford at Craiova. Romcar is the organizer of the distributors and authorized service network in Romania. The dealers in the network function as separate entities, but their connection with the production is made exclusively through Romcar," said Laura Andreescu, marketing & communication director at Romcar. "Romcar plans to develop the network taking into consideration the regional sales potential and the increase of customer satisfaction," she added.
But many expect that in time the dealers that are now in the Romcar network will start negotiating directly with Ford, which will also develop as a national company covering both production and distribution. This depends on how fast Ford manages to cover both exports and local market needs.
By Dana Ciuraru