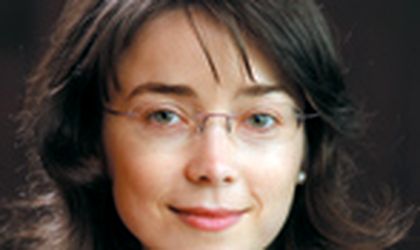 Energy has been in the past few years one of the most active and dynamic practice areas for local law firms. The mergers and acquisition in this sector have been the crown jewels. For instance, Musat & Asociatii link their name to the acquisition by Enel of Electrica Banat, Electrica Dobrogea and Electrica Muntenia Sud and the list of energy projects for which they offer legal advice does not stop there.
"We handle the acquisition by Enel of several energy companies owned by the Romanian State among which is a 800 MW hard coal capacity located in Braila. We also render legal advice in relation with two major greenfield projects in renewable energy," Miruna Suciu, partner at Musat & Asociatii told Business Review.
She added: "We have been assisting one of the major European utilities in connection with the acquisition of a major renewable project in order to develop a high capacity wind power plant in the south of Romania, and we have also been involved in other brownfield or greenfield energy generation projects."
Teodora Radulescu, Communication and Business Development Manager at bpv-Grigorescu, said that the law firm currently has two ongoing projects. "One refers to legal advice covering regulatory, energy, tax and litigation issues for a large international energy trading company, while the second project involves legal advice for an international energy group for the takeover of a wind farm project," said Radulescu.
Officials from the law firm Zamfirescu Racoti Predoiu told Business Review that next year a co-generation power plant will be finalized.
"We are involved in a project in which we offer legal support to a foreign investor to build a co-generation power plant, outside Bucharest, and which will be finalized most probably next year," said Ioana Racoti, senior partner at Zamfirescu Racoti Predoiu.
The law firm has assisted Gazprom in the past regarding the privatization of Petrom and Distrigaz Sud. The Russian energy giant however failed to win either bid.
Robust revenues
As Romania's energy sector is going through changes in light of top-European utilities looking for bigger projects and opportunities for investments, the structures used in the sector have become increasingly complex and sophisticated. "Legal expertise and specialized know-how regarding particular issues specific to the energy market are increasingly important for the success of the deals. Energy investors are choosing carefully legal counsel on the basis of specialized capabilities and skills, and on their proven track-record in successfully carrying out ever more demanding and complex projects," said Suciu. She added that as Musat & Asociatii has been involved in high-profile deals in the electricity market, more than 15 percent of the company's revenues have been generated from energy deals.
"If we couple this with our involvement in gas-related projects, this goes up to between 20 percent and even 25 percent of our total revenues," she said.
Radulescu of bpv-Grigorescu told Business Review about clients that are players on the energy market or aim to enter the law firm's portfolio.
"The energy projects on which we assist our clients bring us between 5 percent and 10 percent of our total annual turnover," Radulescu noted.
Moreover, law firm officials say the clients keep coming. Cristina Filip, partner at NNDKP, said that there are clients which have considered just recently business opportunities in the energy sector, which means a source of steady revenues for the lawyers.
"The energy sector is one of the areas with a constant flux of projects and legal assistance requests in the company project portfolio. Starting with 2003, the revenues from this field surpassed each year EUR 500,000, which place energy in the top of significant practices in our law firm," said Filip.
Legislation puts off investors
Lawyers say that the major problems that surface in this field stem from the model used to implement EU legislation in Romania for governing the energy sector.
Suciu says that since the gradual opening of the market, the Romanian legal framework has been going through an extensive process of alignment with the European directives and standards.
"These changes further deepened the competition among all players in the market, at every level, and the entry of top-European
players has contributed to raising the standards even more," said Suciu.Bottom line is that all inconsistencies within legal matters drive investors away, even if they are interested and willing to invest in the Romanian energy sector.
"The legislation in the energy sector has definitely not implemented the European directives in a proper way. We can mention here the delay in finalizing and passing the bill regarding support for renewable energy production after 2012. This situation puts a limit on investors' appetite in this sector," said Filip.
However, items on this front may move forward by the end of the year due to the parliamentary election in November.
By Dana Ciuraru