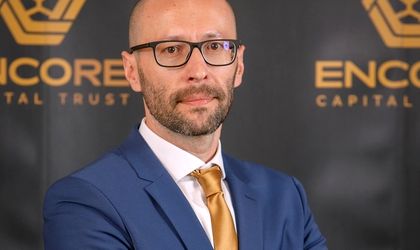 Investing company Encore Capital Trust (ECT) attracted over RON 25 million (approximately EUR 5.1 million) of capital in the first six months of activity, also making 170 acquisitions, with an average annualized return of over 20%.
The capital was attracted from 27 entrepreneurs and successful managers from the local business environment, such as are Dan Sucu (founder of Mobexpert), Marius Hanganu (co-founder of Tremend Software), Iosif Szavus (founder Ines Group), Silviana Belciu (founder of BDG Import and Loft) or Cristian Becheanu (founder Arta pharmacies).
The company placed so far approximately half of the attracted funds in the pre-contracting of 170 real estate assets. Most of them consists of apartments and parking lots located in nine residential projects, the average investment ticked being of approximately EUR 290.000.
"Despite geopolitical tensions and fears about the effects of inflation on the economic growth, the residential market proved resilient in 2022, if we look at the number of transactions and the stable evolution of prices. Investors preferred capital preservation to negative real returns, with almost all mutual funds, regardless of the asset classes allocated to them, be it stocks, bonds or other classes of assets, performing below the inflation rate. As inflationary pressure eases, we expect a return in the risk appetite and investors to relocate capital from bank deposits and government bonds to the real economy, 2023 becoming the best moment to invest on medium and long term," stated Robert Butoi, CFA, Executive Director Encore Capital Trust.
ECT's investment policy is focused on six lines of business, the main ones being the acquisition of residential units in projects in early development stages, at a preferential price, mezzanine investments, which involve capital participation in the development of a project and the capitalization of the completed product, the acquisition of real estate assets to obtain a monthly return and iBuyer acquisitions on the secondary residential market. The company aims to reach an investment portfolio of tens of millions of Euros on medium term, invested on all real estate segments.
Encore Capital Trust was founded and is managed by a series of proven entrepreneurs and managers with a vast experience on the local real estate market and business environment. The foundations of the company were laid by Cosmin Savu-Cristescu, managing director of Redport Capital group, an important local real estate developer and Andrei Sarbu, CEO of real estate consultant SVN Romania, one of the main profile companies active in Romania and the one with the most extensive activity on the residential segment.
The company's management team also includes Bogdan Gubandru, who holds the position of Investment Director – being one of the most experienced real estate consultants specialized in investment transactions, involved in the sale of several known office projects, such as America House, Floreasca Park and The Light One – Amalia Dirle as CFO, after a career of over 12 years on the banking sector, out of which the last five in private banking within BRD GSG,  Victor Vremera as Development and Acquisition Manager, with over nine years of experience in companies like Coldwell Banker, Metropolitan and SVN Romania, as well as Elena-Diana Nedelcu, as Head of Legal, Partner in SCPA Savu-Cristescu & Asociatii, with an experience of over seven years in complex projects, investment transactions and real estate projects, assisting and representing a significant portfolio  of national and international clients.
Encore Capital Trust also benefits from a redoubtable Advisory Board, consisting of numerous successful consultants and economists, among whom are Liviu Arnautu, founder and partner of the asset manager Atlas Asset Management, Adrian Codirlasu, vice-president of CFA Romania and DOFIN associate professor at ASE, Ruxandra Jianu, partner Biris Goran, Bogdan Belciu, co-founder and partner of the consulting company Valorem Business Advisors and Bogdan Iliescu, founder and partner BI Corporate Finance.