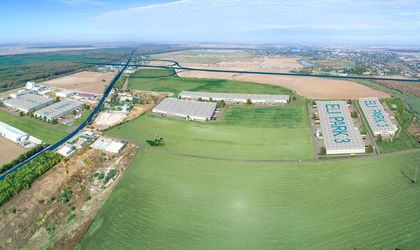 Real estate developer, Element Industrial, announces a new investment of 20 million euros, for extending another 30,000 square meters of the ELI Park 3.
Ferro Romania, the local division of the Polish Ferro group, which sells sanitary installation equipment, has pre-leased an area of 16,000 sqm. The pre-lease transaction was brokered by ESOP agency.
"The choice of Ferro honors us and reconfirms the importance of the Buftea-Chitila hub on the logistics map of Bucharest," says Andrei Jerca, Managing Director, Element Industrial, adding: "We keep the aggressive development pace, and we will soon exceed the 100,000 sqm milestone at ELI Bucharest North -West hub."
—
The company FERRO Romania operates on the market for sanitary and installation equipment, selling products such as sanitary batteries, shower systems, gutters, bathroom accessories, sinks, pumps, distributors, or taps. "In the process of offers' selection, the ELI project has checked all the criteria, and will ensure the distribution for both the Romanian market and the Southeast of ​​Europe," explains Dan Ionutas, general director of FERRO Romania.
The second phase will be delivered in the fourth quarter 2022. At the same time, Element Industrial works on a new phase of ELI Park Bucharest Nort West – 20,000 square meters, the works being planned to start in the second half of this year. In the same area, the developer previously delivered ELI Park 1, with a surface of ​​50,000 sq. m. Through ELI Parks projects, Element Industrial targets to fully cover the needs of potential tenants, regardless of the field in which they activate. In this context, the concepts used in the development of parks allow flexibility in accommodating a wide range of needs, both technical and operational.