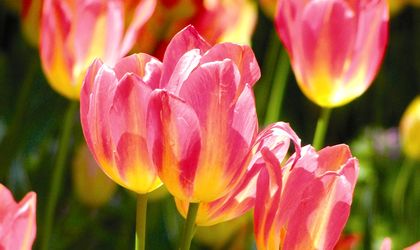 According to National Bank of Romania (BNR) data Dutch and Austrian companies have disputed the top position among foreign investors to Romania for the past decade. Many of the Dutch investors active in Romania are Dutch-capitalized companies, others are foreign companies registered in the Netherlands due to a friendlier fiscal regime than in other European countries.
Simona Bazavan
Dutch investors came to Romania in the early 90s and in spite of the economic crisis, Dutch investments have not changed their upward trend, Hans Smaling, counselor for economy and trade and chief of department with the Embassy of the Kingdom of the Netherlands to Bucharest, told Business Review.
"Since the European Union accession in January 2007, foreign investors and companies have been expanding their activities to Romania. This should have a positive impact on the economy as a whole and on other companies which are interested in investing in Romania. In terms of Dutch investments, I am proud to say that the Netherlands is one of the most important foreign investors in Romania. Dutch companies invest in various areas such as production and logistics, IT, FMCG, banking and financial services," said Jan Derck van Karnebeek, general manager of Heineken Romania.
There were 2,110 companies registered in Romania with more than 30 percent Dutch shareholding at the end of March 2010, according to a ICAP Romania study.
"In June 2009, these companies accounted for a EUR 9 billion turnover and a little over 154,000 employees. One third of them run businesses in the auto trade and manufacturing sector. Some 126 companies with more than 30 percent Dutch shareholding reported a mid-year 2009 turnover above EUR 10 million," reads the same report.
Dutch banks manage local financing
ING Bank, part of the ING Group, was one of the first banks to open a subsidiary in Romania after 1989. Besides the banking division, ING is present locally through five other divisions, ING Asigurari de Viata, ING Pensii, ING Lease, ING Commercial Finance and ING Real Estate Investment Management.
ING Bank Romania posted a 2009 gross profit of RON 84 million, 20 percent down on 2008, and a RON 695 million net income, up 30 percent on the previous year, bank officials have said. The gross profit was affected by the significant rise in provision costs compared with 2008. The lender posted RON 11,063 million of total assets at the end of 2009, while its credit portfolio dipped by 3 percent, to RON 7,254 million. Its customer base rose by 17 percent, from 769,000 in 2008 to 902,000 at the end of 2009. The number of SME customers doubled to 17,000. The bank's credits/deposits ratio reached 84 percent.
"We intend to increase income and lending in 2010, and we will continue to maintain a prudent risk policy, consolidate our branch network and increase our market share," said Misu Negritoiu, CEO of ING Bank Romania. He added that the bank intended to exceed 1 million individual customers this year.
On the insurance market ING posted RON 527.1 million gross written premiums in 2009, down 5.4 percent on the previous year. The insurer posted a RON 92.07 million gross profit last year, about 2.4 times higher than the previous year. "I think that 2010 will continue to bring similar challenges for insurers as 2009. In such conditions, the decision to buy insurance will likely be postponed or re-analyzed by some potential customers who will have other priorities. As a result, I don't expect major changes in the level of new sales of products this year on 2009 and, as a whole, I expect the market to stay at the same level as last year," Cornelia Aurelia Coman, general manager of ING Asigurari de Viata, told Business Review on a previous occasion.
Eureko Romania was founded in 1995 as Interamerican Romania and rebranded as Eureko last year. Dutch financial products provider, and major shareholder at Interamerican, Eureko took over the firm in 2001. Last year Eureko Pensii took over Bancpost Fond de Pensii and KD Pensii, thereby consolidating its position on the mandatory pensions market (Pillar 2). The insurer also announced last year a capital injection of EUR 25 million from
Eureko BV, directed towards the development of its local subsidiary network.
"We concentrate on our key segments, pensions and life and health insurance, which we consider to have a high development potential," said Shaun Russell, commercial director of Eureko in Romania.
Real estate and construction sail rough waters
Cascade Group is a fully owned subsidiary of East and Central European Venture Capital BV, registered in the Netherlands, which has funded both commercial and residential real estate developments. The developer built the Cascade Business Center, which was sold to investment fund Fabian in 2005 in a EUR 12 million transaction. The company has recently finished Euro Tower on Barbu Vacarescu Street, a green building office project developed in partnership with investment fund Charlemagne Capital. The project is estimated to have required a EUR 60 million investment and has some 18,000 sqm of office space which is leased for about EUR 18/sqm.
Earlier this year the developer announced that along with Avrig 35 it will build the Pallady Shopping Center, a retail project in east Bucharest that will open in 2012. The project is supposed to include office, retail and residential space and is estimated to require a EUR 750 million investment.
There are no doubts that real estate was one the industries hit hardest by the economic crisis, seriously affecting other connected fields.
Sales of construction materials dropped by 30 to 50 percent in Romania last year, according to Adrian State, general manager of Den Braven Romania. The local subsidiary of Dutch polyurethane foams and adhesives producer Den Braven posted EUR 30.8 million in sales last year, down 8 percent on the previous one.
The comany estimates a 15 percent increase in turnover for this year to EUR 35 million. Exports in January-April grew to EUR 4.68 million, compared to EUR 2.28 million in the same period of last year, while the company's total sales reached EUR 9.25 million, 38.4 percent higher than in the same period of 2009.
"In the first four months we doubled our exports, and entered markets such as Vietnam, Argentina and Lithuania, so we are currently exporting to 32 countries. Sales in Romania grew by only 4 percent in the first four months, but in April this year we posted a 20 percent growth, and our estimates show we will reach a EUR 35 million turnover this year," State added.
Den Braven opened a representative office in Romania in 1997, and in 2007 decided to invest over EUR 12 million in a local polyurethane foam plant, the group's only one in Eastern Europe. An additional EUR 7 million investment was made in the site in 2008-2009. This year, Den Braven plans to further invest EUR 300,000-EUR 500,000, mainly in the building of a new headquarters for the division in the Republic of Moldova. In 2010 the company aims to increase production and to further continue its international expansion.
"We plan to enter new markets and the fact that only two years after the opening of the local factory we already export to 32 countries, about one third of the over 100 countries where the group is present, is proof that we will manage to expand in a sustained manner in years to come. For the next two or three years I estimate an annual turnover increase of approximately 10 percent, mainly due to the expansion of our international network," he concluded.
FMCG faces market decline
Heineken Romania, part of the Dutch Heineken Group, was founded in 1998 under the name of Brau Union. Last year the brewer saw a 9 percent increase in its net turnover against 2008, to RON 896 million, despite a sector-wide decline.
"2009 was a difficult financial year affecting all the segments of the Romanian economy, including the beer market, which decreased by 13 percent (according to the Romanian Brewers Association). Despite the difficult economic context, in 2009 we registered a turnover growth of 9 percent, compared to 2008. The things which enabled us to register these positive results were: the continuous investments made in our focus brands, as well as our strategy to focus on the core assets of our business. During 2009 we have further improved our ability to generate cash through careful review of investments, cost management programs and working capital management," Karnebeek told Business Review. "Heineken Romania thinks and asks on the long term. Even though we haven't communicated the exact amount of money invested in 2009, we have been continuously investing in our people and brands. This is because we are in Romania to stay and to build a long-term, efficient and responsible business," he added.
The product portfolio of Heineken Romania spans the sectors, including Heineken, Ciuc Premium, Golden Brau, Neumarkt, Bucegi, Edelweiss and Zipfer (both imports), Gösser, Schlossgold, Silva, Gambrinus, Harghita and Hategana. It has breweries in Miercurea Ciuc, Targu Mures, Craiova and Constanta, with 1,100 employees.
FrieslandCampina Romania, the local subsidiary of the Dutch giant of the same name, has posted a drop in turnover against the economic downturn. In Hungary and in Romania, its revenues level was strongly affected by the economic and financial crisis. "In Romania in particular this determined a turnover decrease," the company's annual report reads without mentioning the exact numbers. This is thought to be the first turnover decline for the Dutch producer on the Romanian market after five years when FrieslandCampina held the top position among local dairy producers in terms of turnover. Earlier last year, FrieslandCampina sold the Napoca ice cream brand to Unilever.
"The sale includes the brand Napoca and the transfer of the staff serving the ice cream business. FrieslandCampina Romania will continue to manufacture the ice cream products for Unilever Romania at their Napolact plant in Cluj-Napoca," company representatives stated at the time.
An investor's story
Jerry Van Schaik first came to Romania in 1995 and in 2001, together with a group of friends, set up Amsterdam cafe in Bucharest's old center which he managed for five years.
When this business was done, he opened Grand Café Van Gogh with another investor. The two had invested around EUR 150,000 by the end of 2009.
"We are not planning further investments at this time. We would like to renovate the attic as well
but we are taking a break from development and concentrating on growing the business," said Van Schaik.
"We expect a full recovery of the initial investment in three years." The two investors estimate a EUR 600,000 turnover for the cafe at the end of 2010.
"Since we opened in October 2009 we've had time to test some things and make final adjustments. We started 2010 at full speed," he says.
Van Gogh Café is part of the Van Gogh Spaces, a biulding which has a total area of 700 sqm.
"We chose the name Spaces because it represents the whole building. We wanted to convey that fact that there is no predefined function for any of the rooms in the building – they are all open for whatever purpose the client has for them. The term 'spaces' is neutral in terms
of function – it is for that neutrality that we chose it," says Van Schaik.
Van Schaik is also the sole owner of the Rembrandt Hotel, which first opened five years ago. In 2009, the hotel's turnover amounted to EUR 450,000. "I do not manage it on a day-to-day basis, but I do get involved in the bigger decisions," he says.
The investment that had gone into the location by the end of 2009 was EUR 150,000.